There are millions of blog articles that are published on a daily basis, so how can you stand out? The trick is with Evergreen content.
The idea is to GO DEEP! Write more high-quality, in-depth, long-format articles than your competitors. Be the #1 resource for helpful guides and interesting articles that answer your customers questions in a detailed, thorough style.
While everyone else is focusing on trending topics that are hot right now but gone tomorrow, you can separate yourself from the crowd by creating content that is always interesting.
Evergreen content can have a long lasting effect on your website which could mean a consistent rise in organic traffic.
Google even admitted that they factor ever green content (in-depth articles) into their overall algorithm, so why not jump on this opportunity?!
In this article I'm going to explain how to create evergreen content for your site so your site can rank higher.
I will answer the following topics:
What is evergreen content?
Why is evergreen content important for SEO?
How do I create evergreen content?
What is evergreen content?
Evergreen content are topics that people stay interested in forever.
They are the opposite of "trending" topics which are temporarily popular but will soon be forgotten. Trending topics include news articles about political or celebrity gossip or viral content. A trending topic offers a timely perspective on an issue that is going on at the moment in time.
Evergreen content is timeless content. Evergreen content covers topics that are relevant today and years to come down the road.
The term "evergreen content" borrows its name from a sturdy tree. Evergreen trees retain their green leaves throughout the year no matter what season it is. It doesn't change. The leaves don't wither and die.
Like the name suggests, these evergreen topics remain interesting forever no matter what time of year it is. These are topics that people are always looking up and want information about.
Why is evergreen content important for SEO?
Evergreen content is ideal for website content because they tap into topics that people are interested in all the time.
If you create an article or webpage with great content about a topic that people are always interested in, and you rank in search results, you can gain a steady flow of organic traffic that doesn't drop off.
Having material on your website that never gets old and never goes out of style that is always relevant is a great way to bring people to your site.
If you write about a trending topic, you might get people searching for topic for a short interval and experience a momentary spike in traffic but it won't last.
The beauty of evergreen content is that people are always searching for these topics all year round.
This gives you time to write an in-depth article or guide, and rank for a keyword phrase over time. If you end up ranking, you can potentially experience a consistent flow of organic traffic to these articles.
Evergreen Content for Beginners: Start here
Not sure where to begin? That's okay. I'm going to give you a ton of ideas to get the wheels turning in your mind so you can start creating your own evergreen content today!
First, stop and think about topics that people are always interested in related to your niche. Next, make an exhaustive list of topics related to your website's industry or niche that you can write about.
You know your customers better than anyone. Brainstorm some articles that you would like to create and jot down those ideas.
How to Research Evergreen Content Topics
Keyword research your possible article ideas and let the data speak for itself.
Select keywords that  have a high search volume. There's no use writing about a topic that doesn't have any search volume (i.e. people searching for it). The idea is to go after topics that are long-lasting and never changing.
Evergreen content = high search volume (monthly searches)
The goal is to find a keyword phrase that has a LOW competition AND high search volume.
The competition of a keyword indicates how likely you are to rank for that term. If it is highly competitive, it's going to be harder to rank for. The lower the competition, the less people you are fighting with over a term.

The term "evergreen content" gets 1k-10,000 searches per month AND has Low Competition. This is a gem.💎
12 Ways to Create Evergreen Content + Examples
I'm going to give you some tried-and-true methods that you can apply to your website. Anyone can apply these techniques and see real results over time. You don't have to be a well known person, famous, or have a lot of Twitter followers.
The real secret sauce is honing in on your ability to write better over time so you can create interesting content people will want to read!
1.) Write a Beginners Guide
There are more beginners in the world, so why not start here?
Beginners Guides offer advice on how to do something or learn about a topic with step by step instructions and examples. They offer insight that is easily digestible for people just starting out.
Most people (who want to learn more about a certain topic) search for "Topic + beginners guide"
This means people are actively seeking out beginners guide in their search phrases. This makes writing a beginners guide a great opportunity for you to capture an audience hungry for information about a topic you know so well!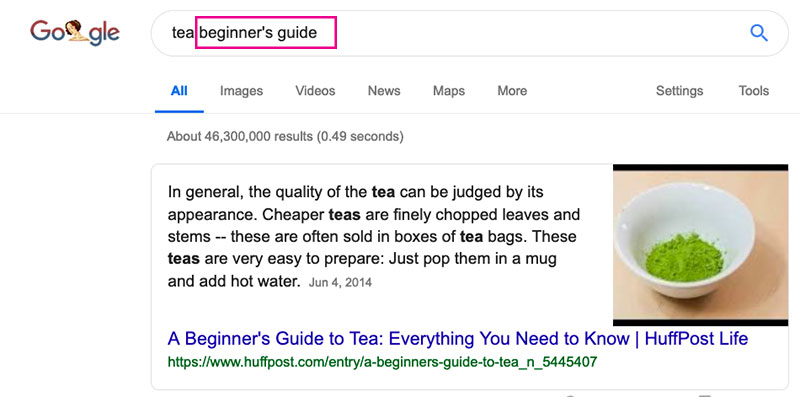 Beginners guides are challenging to write because they require the writer to explain a topic in a way that is easy to understand but are well worth the effort.
If you feel you can help beginners in your niche, writing a beginners manual or tutorial is a great way to attract customers/followers.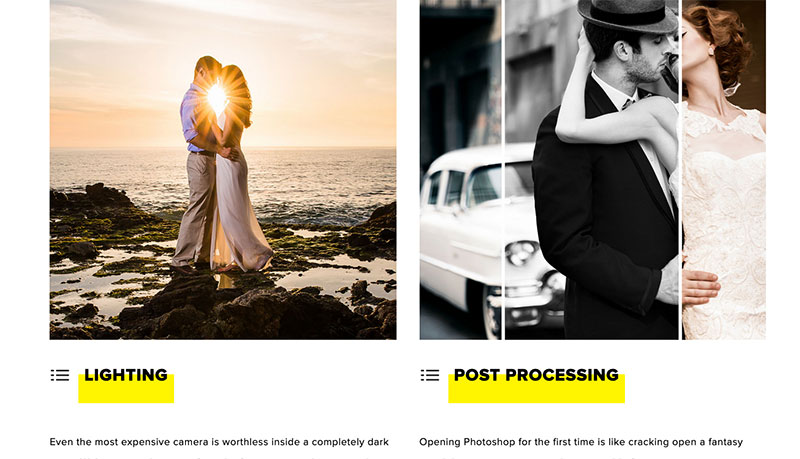 Creative Live's beginners guide for photography breaks down industry lingo in a friendly way complete with photo examples.
This Keyword Guide for Beginners covers the absolute basics of what an SEO keyword is along with real life examples.
2.) Write a How To Guide
How to Guides are great because they are always needed and don't go out of style.
A hardware store that offers a selection of tools can write a guide about how to fix a plumping issue, how to install a stove, or how to repair a leaky faucet.
Whittard Tea is an online tea company. They offer an in-depth tea Guide with an overview of tea types along with instructions on brewing and product recommendations.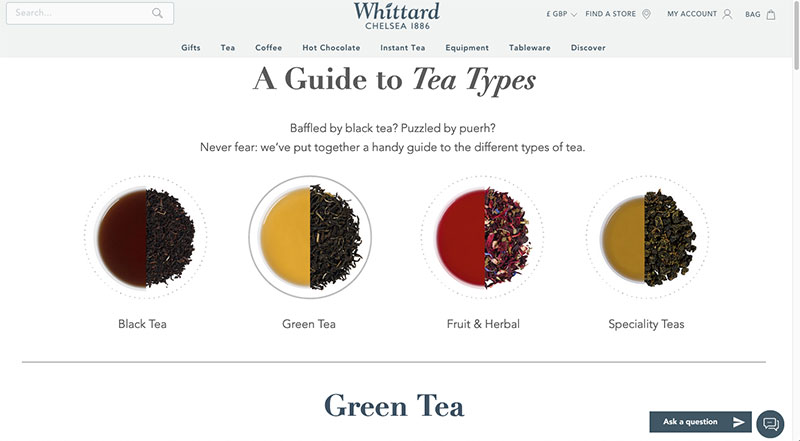 Neil Patels enticing article title "How I Gain 1,260 Instagram Followers Per Week'' is just tempting you to click on it! I appreciate his concrete tips for increasing social media engagement along with real life examples of his own account.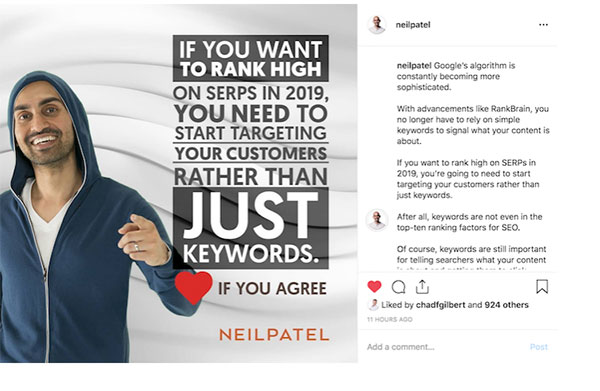 If you have an online store, think of what your ecommerce store specializes in selling. Next, ask yourself, "Is there a how to guide I can write about that would help my customers"?
Offering help to your target audience is a great way to show your expertise on a subject. Potential customers are more likely to purchase a product from your company since you already provided a resource to them for free.
3.) Best Product Guide
Most people google "Best + and then the name of the type of product they are looking to buy."
Adding the word "best" in front of a term is known as a keyword modifier. This not only implies intent (the consumer is searching for the best in a category) but it also indicates that they aren't quite sure what to purchase yet.
In other words, they haven't made up their minds yet on a single brand so now is your chance to offer a helping hand.
Now it's a little difficult blatantly promoting your product but it can be done right (with some finesse).
No one likes to be beaten over the head with a sales pitch.
One method is to offer all the facts and present various products (your brand carries) and then let the reader decide for themselves.
Another approach is to offer a single product and cover its benefits in depth. Instead of saying "buy our product" you can offer testimonials of all of your happy customers and again, let the customer make the choice themselves.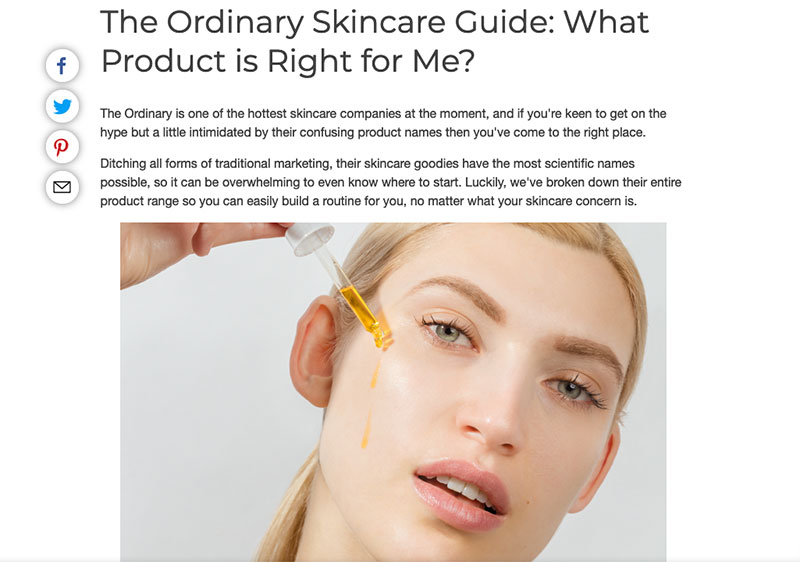 Example: Adore Beauty does a wonderful job at offering a skin care guide for ordinary skin. They offer advice on how to take care of your skin along with video tutorials and product recommendations.
4.) Advanced Tutorial
If you know a topic deeply, consider writing an advanced guide for your niche on a particular topic. There aren't a lot of advanced guides out there because they require technical-know-how but there is a demand for advanced knowledge.
By going beyond the basics, you can offer your audience a deep-dive into a subject and become a resource for them.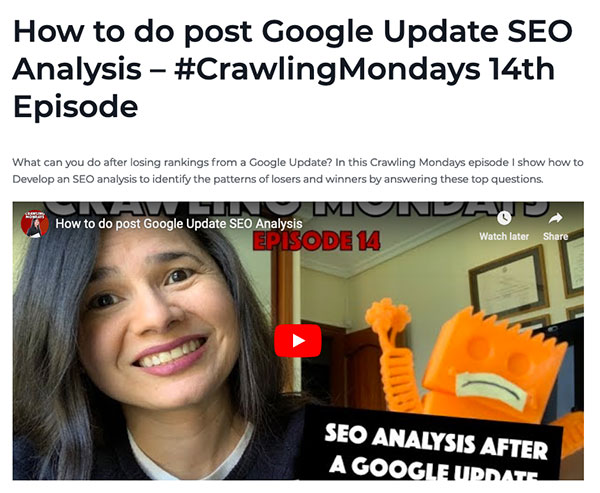 Aleyda Solis tackles the issue of what to do if your ranking drops due to an algorithm update in Google search. This advanced tutorial may not be for everyone, but it certainly serves as valuable knowledge for those familiar with keyword positions.
By positioning yourself as an expert in a topic, this creates trust and loyalty to your brand. This can lead to your customer feeling comfortable purchasing a product from your store.
5.) Round-up with Experts
If you are a new website starting out, you might have a difficult time getting your name out there. One way to do this is to associate yourself with experts in your industry.
The best way to do this is by writing a round-up with all of the experts in your niche. You can ask them a single question that everyone has to answer, and then use their quote in your article.
This requires some effort because you'll need to think of a question that is good enough to ask everyone and then email everyone to see if they will participate but is worth the effort.
A round-up with experts is a great way to meet people in your industry and make a favorable impression. You can also ask them to share the article with their audience once its published.
This round-up of the top SEO influencers by GRIN is an interesting way to showcase all the top-dogs in the marketing industry.  Rannd Fishkin is appropriately listed in the #1 spot for Top SEO People of all time. 👌🏼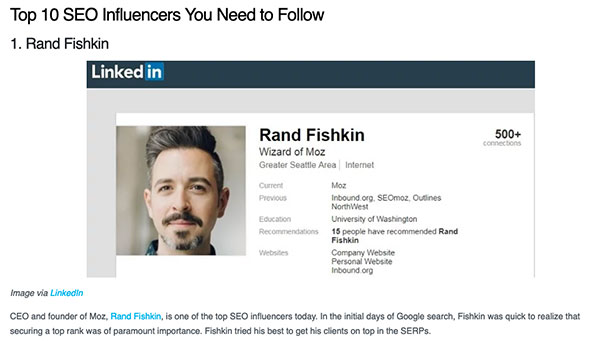 You can include their social profiles and links to their website, which helps them promote their agency or name.
In this Q&A format article, rare women working in SEO are asked uniquely crafted questions about their motives, aspirations and to share some advice. I really like how Rhea Drysdale, owner of Outspoken Media expressed her raw and candid opinion about gender splits in the SEO community.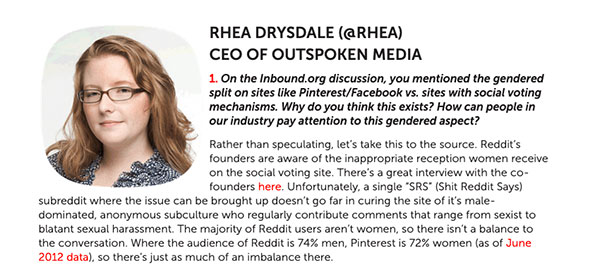 6.) Interview an Expert
Want to be known as an expert in your industry? One way to do this is by associating with other experts in your industry.
Consider interviewing an expert in your industry. If people aren't interested in interviewing you right now, you can always interview other people!
This serves two purposes. First it helps you meet industry leaders in your industry and it also helps to make you look like an expert since people will see you talking to each other.
There is a psychological effect when a person sees another person speaking to an expert. The idea is, "This Jane Dough must be important if she is talking to X."
To secure these interviews, we recommend contacting as many people as possible to see if they would have some availability.
Even a 10 minute interview will give you enough content to write about! Plus an article that includes rich content like a video tends to do better in rankings.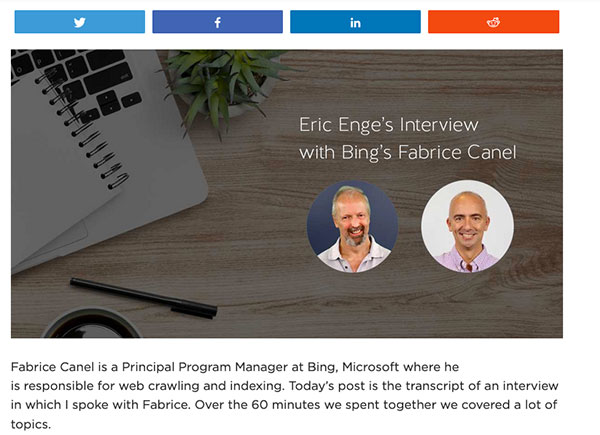 Eric Enge's interview of Bing's Fabrice Canel is a perfect example of how to conduct an interview of a high level expert. He ask tough questions and stirs the pot a little bit. He also fully translates the interview into a written article which is searchable by search engines.
7.) The Ultimate Checklist
Everyone loves a good checklist. Especially, when it's catered to your needs. If you have a lot of knowledge about a topic in your industry, consider creating a helpful checklist.
Checklists are great because they help guide people on what to do in a sequential order. This is the perfect resource for beginners who are just starting out and need some direction.
By giving out a free checklist on your website, you can attract new customers. Nothing makes a better impression on a new customer, then giving them a helping hand.
If your checklist proves to be very valuable, people will share it with friends! They might even sign up for your newsletter.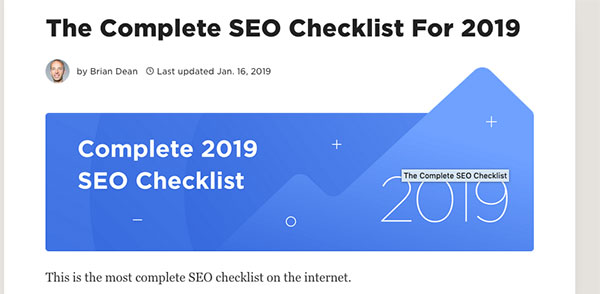 Brian Deal of Backlinko offers a Complete SEO Checklist for beginners. This checklist is incredibly detailed and includes tons of visual examples which is the perfect combination to keep a reader interested. It's had almost 10,000 shares on social media alone!

I love how he includes a table of contents for his article which includes jump to links (aka: hyperlinks that when clicked will take you to that part of the blog article).
8.) Create a "One-Pager"
Help folks get started with a one-pager that covers the basics. Are there some fundamental ideas that can be broken down into simple to understand terms?
Ask yourself, if I had to summarize this entire topic into 2 main points, what would I say?
Then explain in short sentences why those 2 main points are so important and make sure to give real life examples.

Don't forget to also include some emojis to lighten the mode and use casual language.
No one wants to read a boring guide that uses a lot of technical lingo. Keep it easy!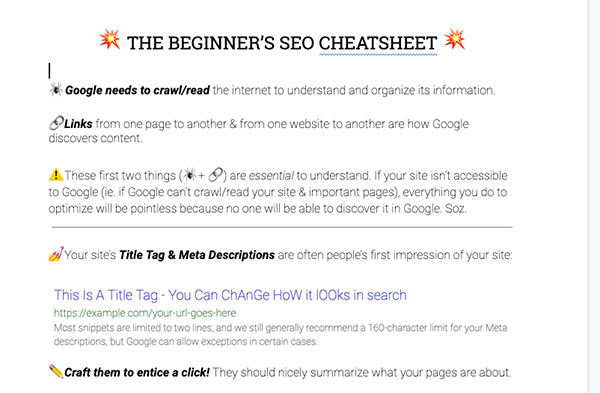 Check out this wonderful SEO one-pager by Britney Muller of Moz.
9.) Top Books To Read
Round up the best books related to your niche. This is your chance to share your favorite books along with some insightful excerpts.
What did you learn most from the book? What made this book unique or worth reading?
Books instruct but they also connect on a human level. They help us realize that are not alone in our struggles.
People are always looking for new books to read to extend their knowledge, so this is a wonderful opportunity to provide a helpful list.
Check out Ryan Holidays Reading List which includes lots of self-help books related to Stoicism. His approach is to tell you why the book changed his life and how but leaves you wanting more.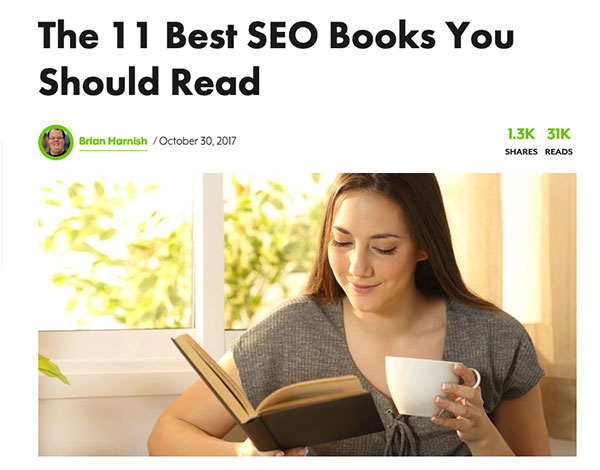 Brian Harnish nailed this technique with his article in Search Engine Journal! He does a great job rounding up his favorite SEO books with a mini discussion on what makes them so useful.
10.)  # of Ways to Succeed
Everyone wants to improve, it's human nature. If you can dish out some advice on how to accomplish a goal in many different ways, you're golden!
Having a number in your blog title is intriguing because it promises many useful tips. This is a content tactic that works.
It also offers a a mix of different approaches so the person on the other end can choose the one that fits their business. Here are some sample blog titles that you can use to create evergreen content.
5 Tactics to Get More X with Y
10 of the Best X for Y
12 Ways to Improve your X
9 Tips to Solve X
Top 8 X to Help you X
Maggie Butler of HubSpot does a wonderful job explaining the ins and outs of  becoming a content creator.

Her article 9 Habits of Highly Successful Content Creators covers all the bases on how to become a writer for your own website. It's smart that she outlined the article at the very beginning so you know what it contains.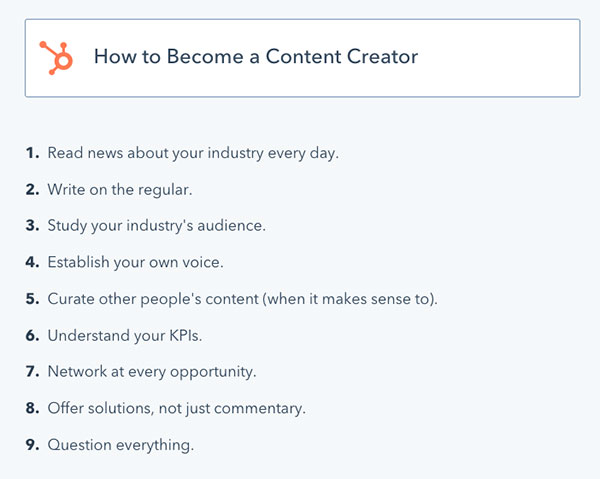 Eric Indig's article 3 Ways to Regain Focus in Growth Marketing seems approachable and non-intimidating. The addition of hand written notes transforms a serious topic into a friendly one.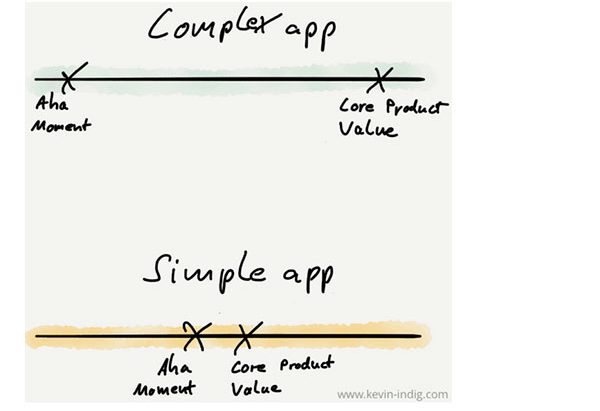 11.) Share a Success Story
If you have a success story you can share with your audience, this is the best way to convey your credibility.
Head of marketing at Contently Joe Lazauskas stated, "As human beings we are programmed to respond to stories."
This psychological article, Why Your Audience Needs Stories explains how our brains release a chemical known as oxytocin which feels similar to love. A fascinating argument for more store telling in marketing!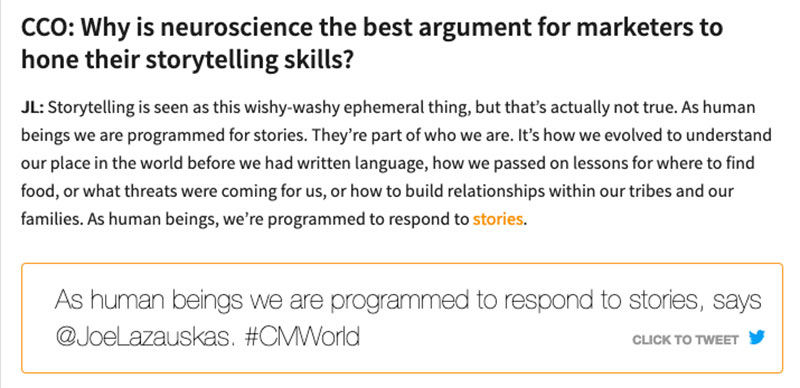 Instead of boosting about yourself, you let someone else do it for you. Success stories are easily relatable and help the people connect with your message.It's best to include a video testimonial into your article for added effect!
Digital marketing super freak Barry Feldman says most customers ask themselves, "Will I be glad I bought this product?" "Will this service or company get me the results I have in mind?"
Writing a success story is just the answer they need.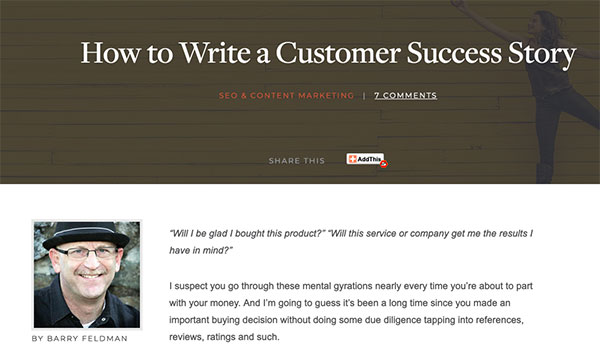 If you're wondering where to start, head on over to Orbit Media's guide to writing a customer success story. This guide will walk you through the process of how to craft a headline, company profile and present the problem and solution.
12.) Create a Case Study
Conducting a case study is a great way to have data that no one else has!
Sure, it might take a little work, but in the end you'll have quantitative facts that others will want to reference.
If someone one to reference your article they will need to link to the original source on your site. Getting credit for your work is a great way to build up backlinks and increase your Google ranking.
Drip conducting a case study where they proved Resin Obsession increased their revenue by 27% after moving away from MailChimp. This astounding article is not only click-bait but it becomes a trusted fact after being shown the evidence.

How to Beat your Competitors with Evergreen Content
1.) Write more than your competitors
This means if your competitor wrote 2,000 words on a topic, your goal is to write 2,500 words. The way you can see how many words an article contains is by highlighting all of the text, and counting it in a free tool like Word Counter.
2.) Use more images than your competitors
The same rule applies to imagery. If your competitor used 18 pictures, you'll use 25.
You always want to make sure you are offering more helpful pictures that add meaning to your article and relate to the points you are making. It goes without saying, you should try to select a better looking featured image than theirs.
If you're looking for royalty free stock photos for your blogs, check out our guide on how to find free images online for your website.
Last but not least, optimizing your images for SEO is a great way to get Google to display your images on Google search results.
3.) Use more outbound links
Out bound links are links to other websites (other than your own). Link only to relevant articles that back up your points or offer more helpful information. Make sure to include a mix of different relevant websites and not just linking to the same website over and over again.
If you're not sure who to link to, you can always Google a term you are talking about, see who ranks on the 1st page of results, and link to them.
Alternatively, you can link to Twitter posts like this👇🏼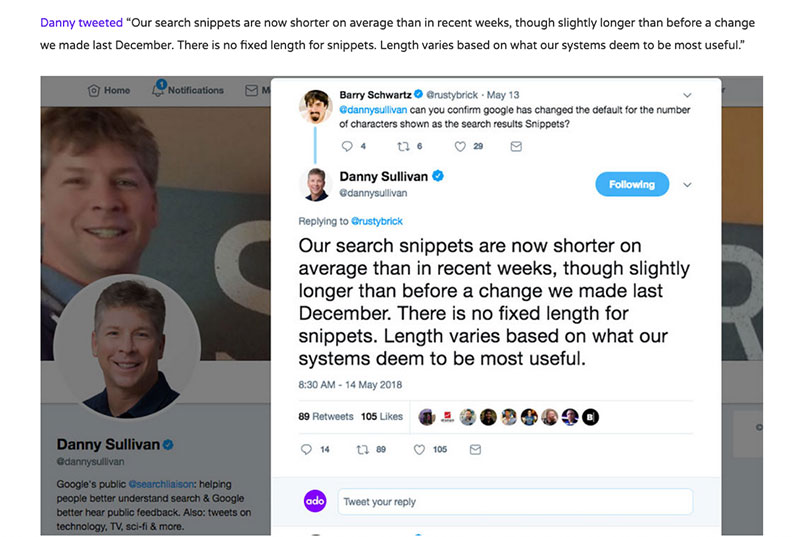 4.) Don't forget to include a couple in-bound links
In-bound links are links to articles on your own website. Now you don't want to overload your articles with these as Google doesn't like it when you are too self-promotional.
Link to relevant articles on your site that offer more information about a certain subject.
For example, here I'm linking to my guide to writing Meta Descriptions because I think would be useful to you. This is an in-bound link.
After-all, since you're going to be spending so much time writing wonderful in-depth articles, you'll probably want to optimize how you appear on search results so you'll get clicked!
5.) Craft a Better Article Title
To see all of the current article titles you are competing with simply Google the keyword you are trying to target. This will bring up a list of the top 10 ranking articles related to this topic. Never copy a blog title! This won't help you out if you just look the same as everyone else.
Remember, what ever you choose as your product title, this will be displayed as a heading on search results. To find out more about how your heading is displayed in search results, read our beginners guide on Page Titles.
Try to use more emotional language that is going to cause someone to click on your listing over theirs!
For more inspiration, check out Pauline's Cabrera's helpful article, 100+ Attention Grabbing Post Titles that actually work!  
Evergreen Content Wrap Up!

I hope these tips have helped you understand the many different ways that you can create evergreen content for your site.

Value is defined as "the importance, worth, or usefulness of something." To become a resource, you need to offer value. Be useful and you'll become important.
Gone are the days of content farms and thin content. Google new algorithm focuses on content value. After all they are in the business of providing helpful information. Ask yourself, "what type of articles would be valuable to my customers?"
Evergreen content is becoming more important as the internet is getting more and more filled up with low quality content. In an age of AI and bots, we are constantly fighting fake news and spam.
By writing evergreen content, you can position yourself as the cream of the crop.
Instead of having shallow articles that causes a person to hit that back button, the idea is to keep people on your site for much longer periods of time and circulating around your site.
Remember it's never to early to start writing in-depth guides on your site!
In fact, I encourage you to pour yourself a cup of coffee and create your very own content marketing schedule using Ryan Robinson's editorial calendar template.
Not using Get Clicked SEO yet? Get started today so you can rank higher on search results and get more traffic. For more tutorials like this one, check us out on YouTube, Facebook, and Twitter.
What is your best advice for creating evergreen content? Share your tips in the comments section below.
✕
Shopify Success Newsletter
Don't miss out on the best tips and guides for Shopify sellers!