Backlinks are a necessity for any website, and it's time to get on the bandwagon.
Do you want your site to show up on the first page of Google? The most important thing you can do is get backlinks. This is so incredibly crucial, I'll repeat that again for amplified effect. There is no better way to increase your rank than by earning high quality backlinks.
If your traffic has flat-lined or you're not showing up on the first page of Google, backlinks is your friend. They can help you rank higher on SERP (search engine results page) and drive more traffic. In fact, the top ranking websites have all accrued an impressive amount of SEO backlinks.
The bottomline is the best way to receive backlinks is to just start! In this article I'm going to cover all the different ways you can get backlinks for your website even if you're just starting out. I'll give you real life practical strategies you can apply to your own website.
Questions answered in this article:
What are backlinks?
Why are backlinks important?
What are High Quality Backlinks?
How Do I Get High Quality Backlinks?
How Many Backlinks should I Get?
Do Backlinks Work in 2019?
What are SEO Backlink Examples?
Should I buy backlinks (i.e. paid links)?
What are Backlinks?
Backlinks are links from other websites that point back to your website. You can think of them as people talking about your brand or company.
If your brand is worth mentioning or referencing, people will link back to you. Other websites might link to your website if they find it interesting, helpful, beneficial, or amusing.
This other website is saying to their audience, "Check out this other website! They are worthy of your attention."
Backlinks also known as "in-bound links" because they bring people to your site (from another site).
Here is an example of a backlink. The baby names website Nameberry is prominently featured in Huffington Post as an authority on the topic so they've linked to this website.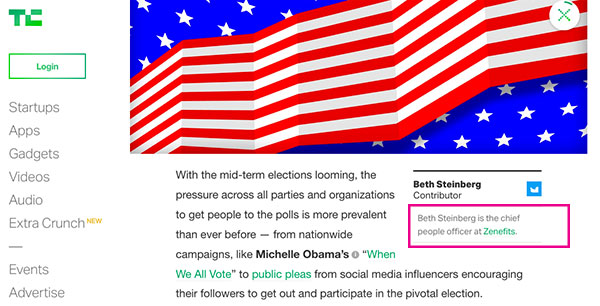 Why are Backlinks Important?
Backlinks are the most important ranking factor for Google. Other ranking factors such as amount of traffic, social media presence and keywords are dwarfed in comparison.
There is a high correlation between high ranking sites on the first page of search results having accumulated thousands and sometimes millions of backlinks.
Think of each backlink as a vote. When a company links to your website, they are voting for you company. The website with the most votes, gets elected to the top.
Backlinks are a great way to establish and present yourself as an authority figure in your industry.
If people are referring to your site and quoting you, then you begin to become an expert in this field. Backlinks signal to Google that you are an authoritative site that people should pay attention to. 
Only Settle for High Quality Backlinks
Not all backlinks are created equal. The goal is to have esteemed, credible websites writing and talking about you.
High quality backlinks carry more weight and are favorable for your website's ranking while low quality ("spam backlinks") carry less weight, and can even be harmful for your rank.
A high quality link gives you credibility, trust and respect. If a website mentions a site, they are recommending the brand.
Examples of High Quality Websites
Try to acquire backlinks from highly regarded and well respected websites. These signal to Google that your website must be a force to be reckoned with.
Prestigious websites include Forbes, CNN, Huffington Post, New York Times, The Guardian, Washington Post, The Wall Street Journal and the New Yorker. The more established or trustworthy, the better.
Think of websites that are owned by a singular authoritative figure in your niche. Examples: Tim Ferris, Ryan Holiday, or YC's former President Sam Altman.
Brainstorm associations or groups related to your industry. For example, a female founder might be interested in the association, WomenWhoCode.
Lastly, don't underestimate bloggers who have a growing following of loyal readership. These are the BEST places to start.
10 Ways to Get High Quality Backlinks
The goal is to get people to know who you are and start writing about you. How can this happen if you are essentially unknown?
Yes, it's possible to get backlinks even if you're just a new company with zero brand recognition.
Below I'll cover ten useful backlink strategies that won't cost you a cent.
1.) Create a Community
Developing a PR strategy is a great way to get people talking about you and your brand and linking back to your site.
To get known, you have to build a network of individuals.
Surround and introduce yourself to as many talented people as possible. 
Be active on social media. By posting regularly to a platform like Youtube or Twitter you can meet like minded individuals who share your same passion and develop a following. Follow these people on Twitter, tweet to them, share their tweets, and ask for nothing in return.
If you don't belong to a community, create one. Facebook allows you to create public "groups" where you can host events and meet like-minded individuals.
Just click on 'Create Group.'

Next, name your group and click Create.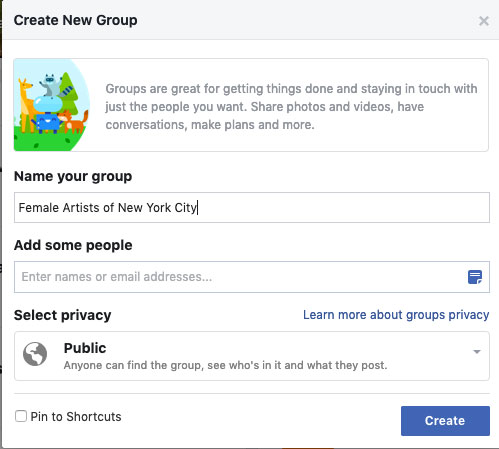 For example, I wanted to meet fellow digital nomads around the world so I organized my own meetup.
Ready for some more ideas??
Attract new visitors to your blog so you can collect email leads.
Attend conferences. Meet people in the flesh and immerse yourself in the industry/niche.
Leave sincere well-thought out comments that illicit a response from the owner
Once you have a community going, you can send out a newsletter to your followers and keep them actively engaged.
Your PR strategy is putting yourself out there on the line. Be accessible, honest, and transparent. As YC Partner Dalton Caldwell says "Put yourself in the position to be lucky." To get lucky, you have to create your own luck. 😉
Eventually all of these little things will give way to interviews, writing guest blogs, and being invited to podcasts.
2.) Write a Guest Blog
Writing a guest blog is one of the best ways to get in front of a new audience and attract visitors.
The first step is figuring out who is accepting guest bloggers for their site.
I doing a quick search on google first.
Enter: topic: topic/niche/industry + "accepts guest bloggers"
Google will show you search results filled with websites that are currently looking for writers on their website.
Often times websites will allow you to include a "follow" link on your "About the Author" section of your guest blog.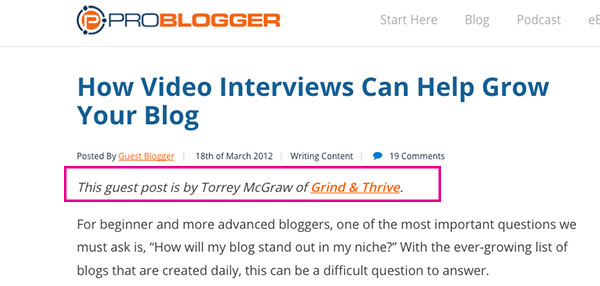 Take for example, the author section for Assistant Editor Anna Crowe of Search Engine Journal. 
 There is a link to her consulting firm, twitter profile, and Linkedin page.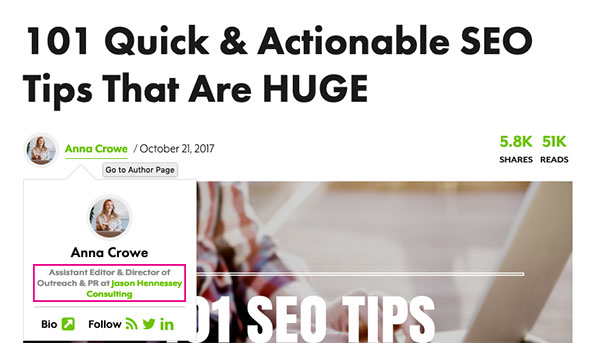 If you have expertise on a subject, this is your time to share that knowledge with the rest of your community.
Alternatively, you can make an exhaustive list of blogs in your niche, see if they accept articles' and then approach them.
Make sure to qualify the website (is it high quality?) and check out the kind of blog articles they are publishing.
I recommend using our template:
Subject line: Guest Blogging
My name is —Your name— and I am the content creator for —your website — (description of your company). 
I can write extensively about —enter topic you are knowledgeable in—.
Some article ideas I have are:
1.) Pitch a topic idea/ title of article
2.) Pitch a topic idea/ title of article
3.) Pitch a topic idea/ title of article
Feel free to check out my portfolio of writing samples on our —website— blog. (link)
Samples of my work:
– First Title of article (link)
– Second Title of article (link)
– Third Title of article (link)
Please let me know if this is something you're interested in. Thanks for your time and consideration! 🙂 
Cheers,
—Your Name—

3.) Get on Product Hunt
Be brave. Your company needs to stand out and be remarkable to be worth mentioning. Be weary of falling into the trap of being a mimetic brand.
What is there about your company that differentiates it from the rest? This will be your hallmark talking point.
Does your CEO only wear purple clothing? Do you offer a 10 star customer experience?
Stripe, Haus, Dollar Shave Club all have a very unique value proposition to sell. What is yours?
This can lead to your company being featured on Product Hunt.
4.) Be on a Podcast
Podcasts are quickly becoming the new content machine for the future. Their potential is still underestimated but they are gaining popularity quickly.
I recommend looking for a podcast show that matches your industry or niche.
On Google, you can simply enter the topic plus the word "podcast" and you'll see a slew of results.
Topic + podcast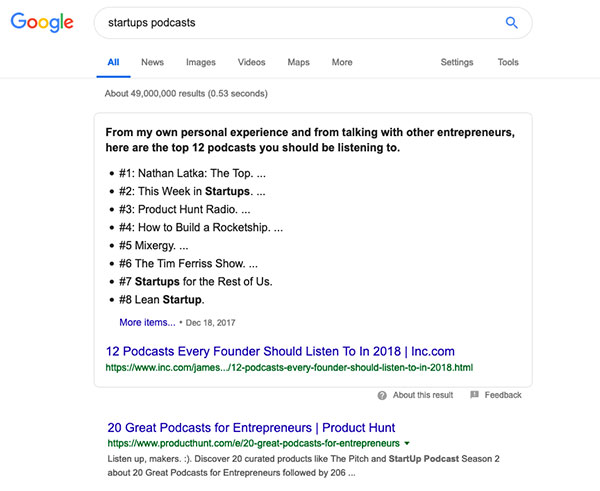 You can email the podcast show host and see if they are accepting any new guests.
For example, if Adolab were interested in being interviewed about start-up life,  I would approach Alex Blumberg of the StartUp Podcast,  Luke Bayard of Cult of StartUp, or Andrew Warner of Mixergy.
I recommend using this template below to introduce yourself. Remember to always think about the host of the show and what they want, not your desires.
Subject line: Podcast Guest
Hello —Name of podcast host—
My name is —enter your name—
I really enjoy listening to your show about — enter topic—. Your show is fascinating because
—enter something you like about the show.—
I would love the opportunity to be a guest on your show. Would you like me to share my experience with — enter topic— with your audience?
I think your audience can benefit from my knowledge of —topic— because —enter reason why.—
Please let me know if this is something you're interested in. Thanks for your time and consideration! 🙂 
Cheers,
—Your Name—
5.) Share the "Link Love"
One way to show some love for another website is by linking to them in one of your articles.
If you find their article or service useful, you can share this with your audience.
You can then email this person to let them know that you shared their website/blog/podcast on your website.
In the future, this can open up opportunities that may not have existed if you didn't give a little of yourself (for nothing in return) and reached out to them.
Although this might seem counter intuitive, it's one of the best pieces of advice for small business owners just starting out.
By showing you are interested and care about other websites, they will naturally take interest in you and be more willing to be reciprocal.
Offer help or "link love" to fellow entrepreneurs and you might notice good things will happen to you later down the road.
6.) Create Shareable Content
If you have something that other websites want to share, they will link back to your website to give you credit for it.
Content is shared because it's useful, entertaining or inspiring.
Here are three options to choose from:
Option #1 Write high quality blog articles
Create blog articles that are helpful, relevant, timely, or arise emotion.
By focusing on generating high quality on your own site, you increase the chances of being referenced by others in your industry. If someone quotes you or mentions your company, they will most likely link back to you.
This self-help article by Darius Froux offers insight into our habits:  Why You Can't Break Your Bad Habits.
Or take a look at this technical article offering advice for Freelancers on Quarterly Tax Payments.
Option #2 Make an infographic that is uniquely yours and offers helpful information.
Google is intrinsically invested in the goal of providing the most relevant information to searchers. Search engines want to provide helpful information.
Info graphics are a great because they convey ideas through images instead of just words.
Use info graphics to help explain a complicated topic, raise awareness for a product, or educate an audience.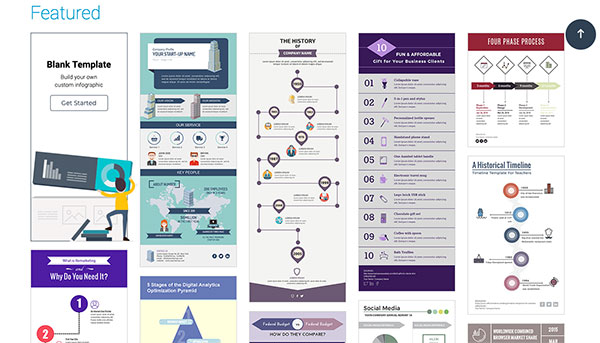 Plus if websites want to use your infographic, they will have to attribute you to your work (link back to you).
Visme lets you create beautiful infographics for free. You can quickly design an info graphic using their tool to create visual content for engaging articles.
Besides infographics, they also offer maps and charts.
You can choose from their many design templates and get something out fast that looks professional.
Option #3 If you have data, you can analyze this and turn it into a Case Study.
Case Studies are a great way to present qualitative information in an easy to understand manner.
Normally case studies involve large amounts of individuals being observed for a certain amount of time, and the outcomes or results are reviewed.
7.) Give Interviews
Other websites need content too and they are always looking for ways to get it.
By emailing other websites and asking them if they'd like to interview your brand, this gives you a chance to not only get a backlink but also market your company.
Giving an interview about your expertise, unique cause, or special message can open doors.
I recommend approaching your local newspaper and TV stations in your city.
If you think this is over your head, you just dismissed your opportunity before giving it a chance. Lots of ambitious individuals pursue this route and it works.
Interviews lead to backlinks, which leads to more traffic to your site.
On ProBlogger, the author of "How to Land Big Interviews when Your Blog is Still Small offers stunningly simple yet powerful advice. "Interviews can be a great source of traffic. Do some."
Word-of-Mouth Marketing guru Jay Baer knows how important giving interviews is. With over 30k followers on social media, he continues to collaborate with other brands for his consulting firm Convince and Convert.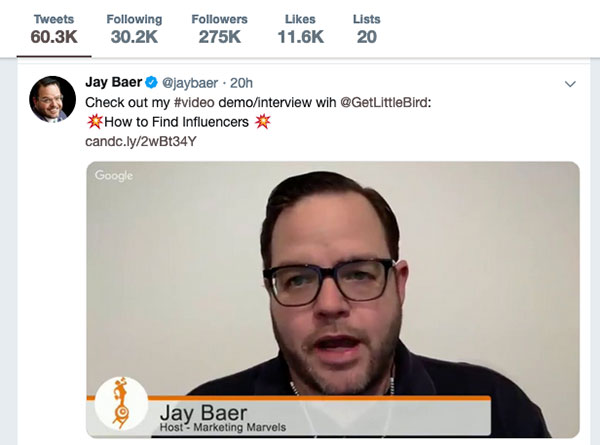 8.) Look at your Competitors
Look at your competitors and see where their backlinks are coming from. Approach these same sites and collaborat with them.
How would you describe your company in 1-2 words? This is most likely a competitive keyword you will want to rank for. Next, search for this term and see which websites are ranking on the first page of results.
Let's say I want to rank for "Eco friendly purse" I would type this into Google and see who's ranking.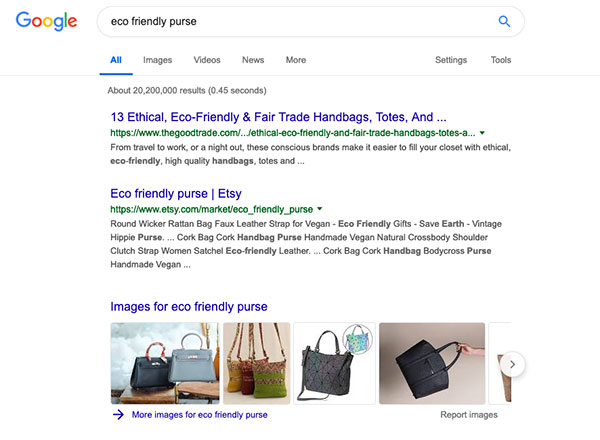 Then I would examine the first 10-20 results and research their company's website.
Look for Press page which should contain all of their media coverage (aka: backlinks)
Forester Products has a genius Press & Media page proudly displaying their most recent write ups. Most importantly, they offer contact information for press inquiries.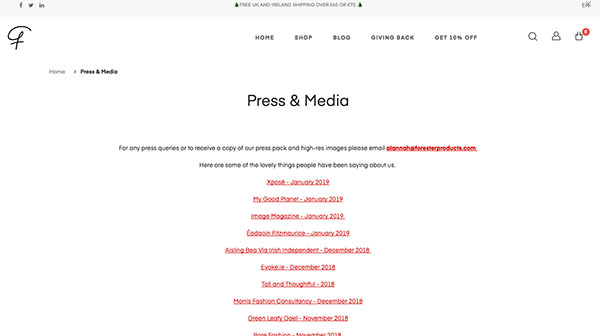 Also, websites often include a featured footer such as "As Seen In" or "As Featured In."
The Remote Life has a section featuring publications they've been featured in. Your job is to get written up by the same publications (chances are they are interested in your story!)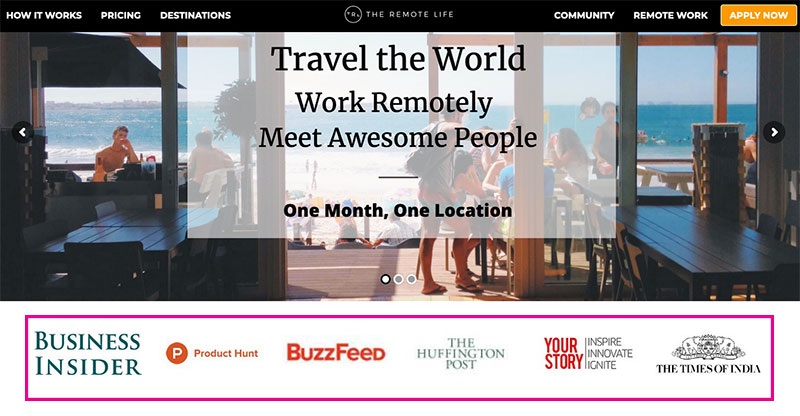 9.) Turn Brand Mentions into Backlinks
Have you had a website or magazine mention your company?
A brand mention is when a website or magazine writes about your company.
This may or may not have a backlink attached to it.
You can turn these brand mentions (that don't have a link) into backlink!
Simply write the company or magazine and ask them if they can add a link to your website.
Often times print publications have an online site so this is very possible.
You can find all of your brand mentions on Google.
For example, if we wanted to find all brand mentions for Adolab we would do the following search
 intext:YourCompany -YourCompanyWebsite.com -facebook.com -youtube.com -instagram.com -twitter.com

10.) Get Voted to the Front Page of Reddit
Want to get noticed?
Try submitting your website to a subreddit community that might be interested in what you have to say.
Remember, it has to be bold and different for people to pay attention.
If you have something worth sharing that people would be interested in, it's worth a shot.
I have tried this technique in the past and it has worked tremendously well. The site I was promoting was voted to the top of the Reddit and we collected thousands of new users and aggregated data in a matter of a few hours.
PR Manager of MuckRack Emma Haddad says "Reddit is a goldmine for PR professionals, and if you're not paying attention now, you should be," in her article Reddit 101 for PR Pros. 

Take for example Samsung AI getting voted to the very top of Reddit with more than 69k people paying attention to their latest technology. They garnered almost 3k comments. Journalists often look to Reddit as a source of inspiration for their latest trending articles, so it's a good place to turn heads.
How Many Backlinks Should I Get?
Your goal should to get a LOT of backlinks.
This is a tough question to answer because there is no exact magic number.
Websites that rank on the first page of search results typically have thousands of backlinks.
This isn't to discourage you, but to exemplify how crucial backlinks play in ranking.
If you are just beginning, I would aim at getting your first 100 and then go from there.
It will get easier over time, because you can start to mention your previous backlinks in proposals (to show you have been mentioned by others in the industry).
It's the nature of humans to want to be included. One backlinks link tends to link to three more.
Should I Buy Backlinks (i.e. "paid links")?
No, buying backlinks is highly discouraged.
This is known as "Black Hat SEO" and is a bad SEO practice. Black Hat SEO implements black market techniques to achieve a temporary higher ranking. It never works and can severely damage your ranking.
Albeit a site might get away with this for a little, but Google is smart enough to detect when a site is gaming the system and they will figure it out eventually. Google penalizes sites to the furthest extent for buying backlinks.
You'll essentially get black listed by Google. A site will have a hard time ranking and showing up at all on search results.
Plus, purchased backlinks tend to be low quality and have a high spam score.
This means a site could potentially have thousands of spam websites pointing back at it, this sends a terrible signal to Google. It's no wonder these websites get caught!
Buying backlinks is a waste of time and money.
It's much better to spend your time accumulating real backlinks and make a positive impact.
Do Backlinks Work in 2019?
Yes, backlinks still play a crucial rule in a site's ranking.
In fact, their importance has increased over the years.
They are now the single most important ranking factor for a site's success.
Creating a backlink strategy is mandatory for every website to rank on the first page of results.
Backlinks are a force multiplier for ranking. Think of it as having a compounding effect that leads to exponential rank growth.
The higher you are on search results, the more people you can attract to your site who can see your brand and mention you on their site.
What are SEO Backlink Examples?
A backlink is a reference or mention of your brand on another site.
Let's take a look at some SEO backlink examples.
Here's a great example.
The innovative start-up WeWork has a Press and Media page where they list all of their mentions.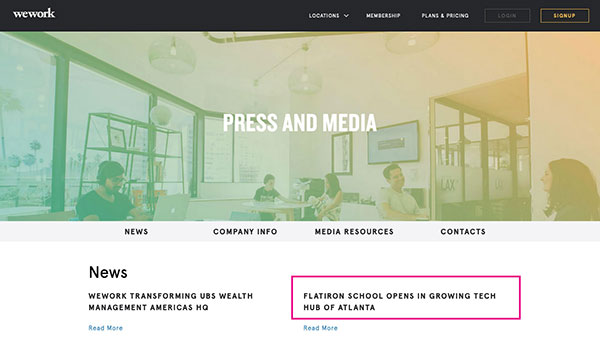 If we click on the article "Flatiron School Opens in Growing Tech Hub of Atlanta" it will contain a link back to Wework's site.

On the Zenefits Press page there is an article that was featured in Tech Crunch.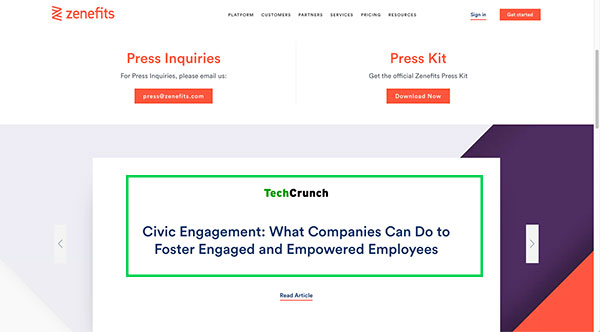 The genius part is that Ben Steinburg is actually the chief people officer of Zenefits. Yes, you are seeing that right. Ben is a marketing genius because he also happens to be a contributor to Tech Crunch.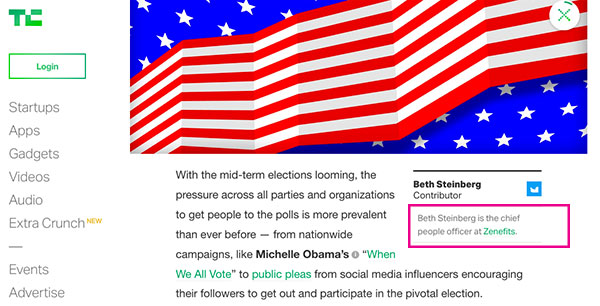 Summary
Backlinks are paramount for your success.
I hope this guide has given you a better understanding of what backlinks are and how to get them for your site.
The limiter of success is self-doubt and fear for the unknown. Believe in your brand and others will too.
If you're confident about your company's direction and goals, others will take interest in what you have to say. And they'll start saying it for you.
Not using Adolab SEO yet? Get started today so you can rank higher on search results and get more traffic. For more tutorials like this one, check us out on YouTube, Facebook, and Twitter.
What is your best advice for getting backlinks? Share your ideas in the comments below.
✕
Shopify Success Newsletter
Don't miss out on the best tips and guides for Shopify sellers!