Have you ever searched for images on Google? I'm sure you have. The reason people search for images is because sometimes it's easier to find something visually instead of sorting through a bunch of text results. It gives you an instant answer to your question visually.
While it's great for finding a chili recipe, it's even more amazing for searching for products.
Now listen up you e-commerce peeps! If you own an online store, your goal should be to get your products to show up on Google Images.
In this article, I'm going to explain the many ways you can optimize your product images so that you can show up and start driving traffic to your site.
What our Short Video Tutorial on Google Images
In this video, I'll cover the basic idea of how you can optimize your photos so you can start appearing in search results and ranking higher with Google.
What is it?
Google Images is the extra little tab that allows you to search only for images on the web. It's great for finding what you're looking for quickly and efficiently.
If you type in a search phrase into Google Images, they will try to match your query with related images.
They will often suggest images for your search at the top of the search results, which is a great place to be featured.
Why should I try to show up?
Showing up on Google Images is a great way to get found by customers.
You can think of it as free advertising for your business. If you end up ranking for keywords, Google can display you to thousands (even millions) of people around the world searching for that term.
Getting shown can drive extra organic traffic to your online store and the best part is  these are interested customers. They've already seen your product, and now they want to find out more information so they can buy it.
Example of Ranking on Google Image Search
So how can we know for sure that ALT text is a contributing factor for products appearing in Google Images?
I'll show you proof.
1.) When I search for the term "purple pajama pants" for Images I get a list of photos to choose from.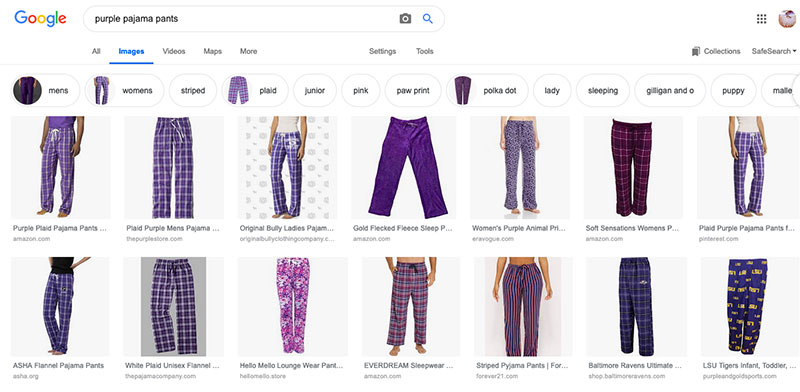 2.) If I click on one of the pictures, it will take me to the website that sells the product. In this case, it's Amazon.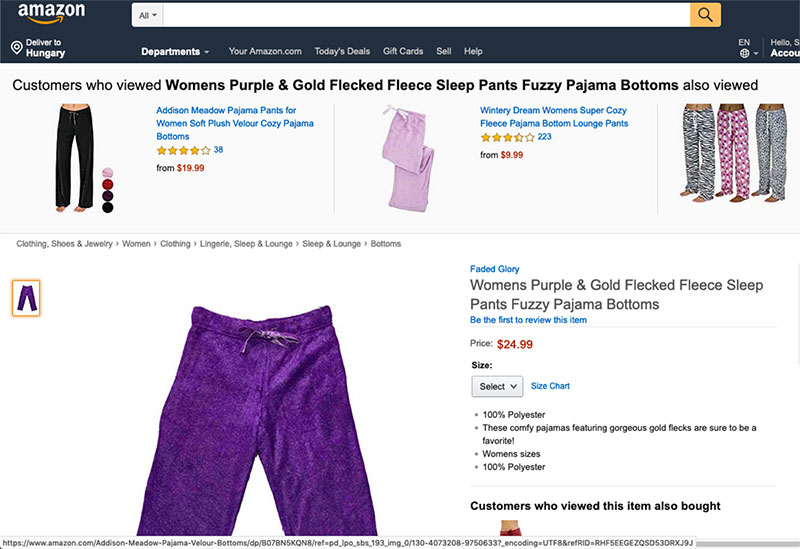 3.) Now lets right click on the image and select "Inspect Element."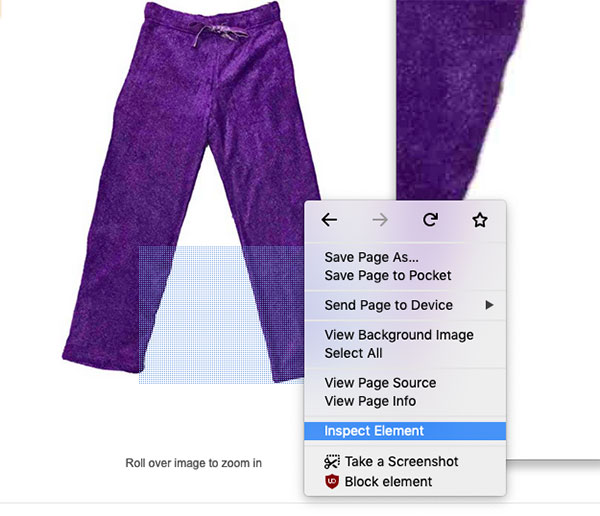 4.) This will pull up a inspector on the bottom of the page where you can see the backend HTML code of the website. We are looking for where it says "alt"="some text in between quotes"
This image contains the following code:
alt="Womens Purple & Gold Flecked Fleece Sleep Pants Fuzzy Pajama Bottoms Small"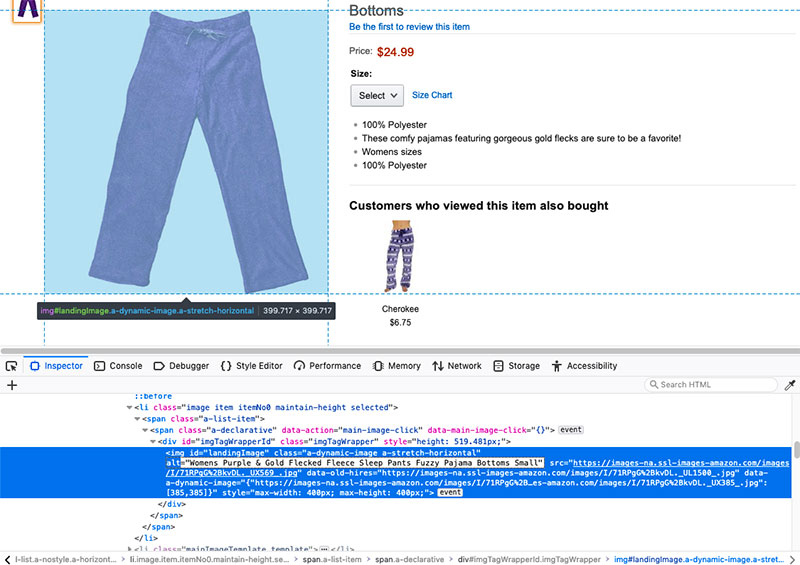 Remember the keyword we searched for was "purple pajama pants."
It appears this alt text contains our keyword but it's all spread out. In other words, it's not a perfect match.
Google knows this image is roughly about "purple pajama pants" because these words are in the image ALT text.  Google's Hummingbird algorithm is smart enough to figure out what people are searching for.
Although Google is smart, I don't like depending on them figuring out what I'm trying to rank for.  Instead, make it easy for them to know what you're trying to rank for. I always recommend using your exact keyword in your ALT text.
Top 3 Ways to Show up on Google Images
1.) Use keywords in your product title
The best way to show up on Google is to start ranking for terms. If you end up ranking for a term, then Google can show you in images as well. Ranking means that if someone types in a keyword (that happens to be in your product title) you show up in search results.
In order to do this, you'll need to do some keyword research so you can find terms that have high search volume and low competition.
Do a brainstorming session of all the terms you think people are searching for related to your product, and then verify this by checking Google AdWords. 
It is possible to find gems, that have high search volume and low traffic which are essentially low hanging fruit. And even if you only find a keyword that has a small amount of traffic (like 10-100 searches per month) with low competition, this is still a really good find!
This means that you can essentially bring up to 100 new visitors to your site if you end up ranking for this term. For an in depth article on how to include keywords in your product title, click here.
2.) Use ALT Text on your Images
What the heck is ALT text? Feel free to read our beginners tutorial here.
ALT text is extra text you can give your images that helps Google understand what the picture is about. If you leave this blank, you're missing out on an opportunity to SEO your images. The idea is to give Google as much information about your products as possible.
Entering ALT text can help you show up on Google images which is absolutely fabulous for driving traffic to your store.
But filling in your ALT text with rubbish isn't good either. Make sure not to take shortcuts like downloading apps that promise to do your ALT text for you automatically because this doesn't work. Repeating the same text over and over again on ALT text can actually lower your ranking.
Save time and do it wrong or spend time and do it right? I prefer the latter. Always manually enter your ALT text!
Use your keyword 1x.
That means if you have 5 photos for one product, you are using your keyword a single time. For the other photos, use similar language but different words.  Each description is different for each image (especially if you have multiple images for the same product).
3.) Filenames
When you save your image files, you have a chance to name these images something. Google uses all the information they can get their hands on to understand what you are trying to sell.
This is your chance to tell Google something about your image. What's in it? What's it about?
When naming your product images, use your keyword 1x. Again you don't want to spam Google by using your keyword many times so make it count.
For your other images, you can write a filename that says something similar but different.
Filenames are just one little piece of the SEO pie, but every little bit helps.
Summary
I hope this article has helped you understand what you need to do to get your images to show up on the front page of Google.
Try following some of these tips and watch and see how your SEO rank improves over time.
If you have any questions for us, feel free to get in touch with us here.
✕
Shopify Success Newsletter
Don't miss out on the best tips and guides for Shopify sellers!