I'll show you how to use the SEO Get Clicked keyword research tool in 3 easy steps!
Keywords are phrases and terms that people search for on Google when they want to buy something. Your goal is to figure out what these search phrases people are using so that you can use them on your product pages.
If your product title contains a keyword that someone is searching for, Google is more likely to show you in search results. This is called "ranking" for a keyword.
Ranking on Google search results is super important because it can drive more (free) traffic to your store.
By the end of this article, I'll teach you how to do keyword research so you grow your store with SEO! 🎉
Basically, you want to find a keyword that has low competition but is high on searches.
I'll show you how to find these gems.😉💎
3 Steps to Keyword Research
1.) See if people are searching for the term
2.) Check to see if it has traffic
3.) Check the competition
Step 1: See if people are searching for the term
The first step to keyword research is seeing what terms people are actually searching for.
If someone wants to buy a bed for a large dog, they might search for "extra large dog bed."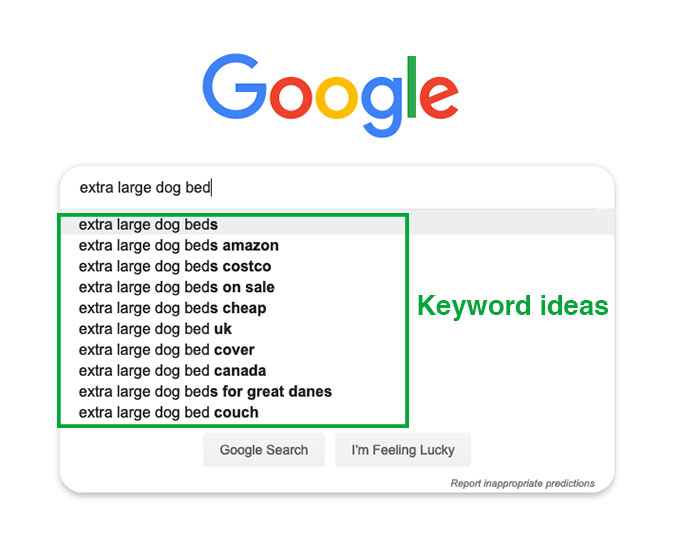 Play around with Google's search bar!
Type something in and see what the auto suggestions are… these are all actual search terms that people are looking for.
These make for great keyword ideas.
You can use SEO Get Clicked to find the same keyword ideas by clicking the "Get Suggestions" button.

Let's keep going…we're getting somewhere now.
Step 2: Check to see if your keyword has traffic
So the next step is to see if your keyword has any traffic (also referred to as "search volume").
This will show you how many people are searching for this term or phrase.
With SEO Get Clicked, we can find out this information by clicking the "Check Trends" button on the product optimization page.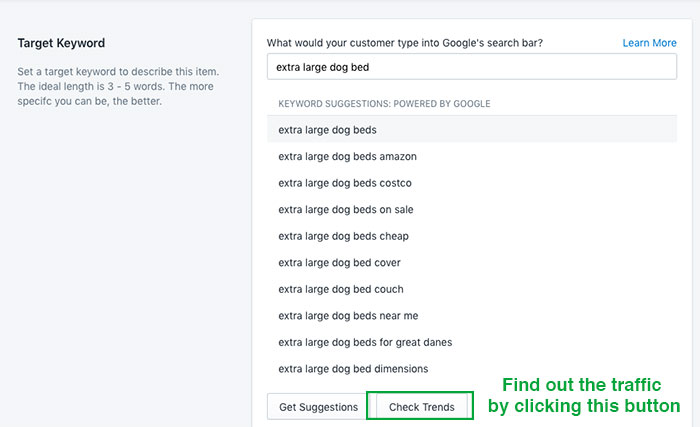 This will throw your keyword into "Google Trends" which will check to see how much traffic your keyword has.
If your keyword has "no data" this means there is no traffic. This means no one is searching for this term.
It's a good idea to throw in a couple keyword ideas into this tool so you can compare them against each other and see which ones have the most traffic.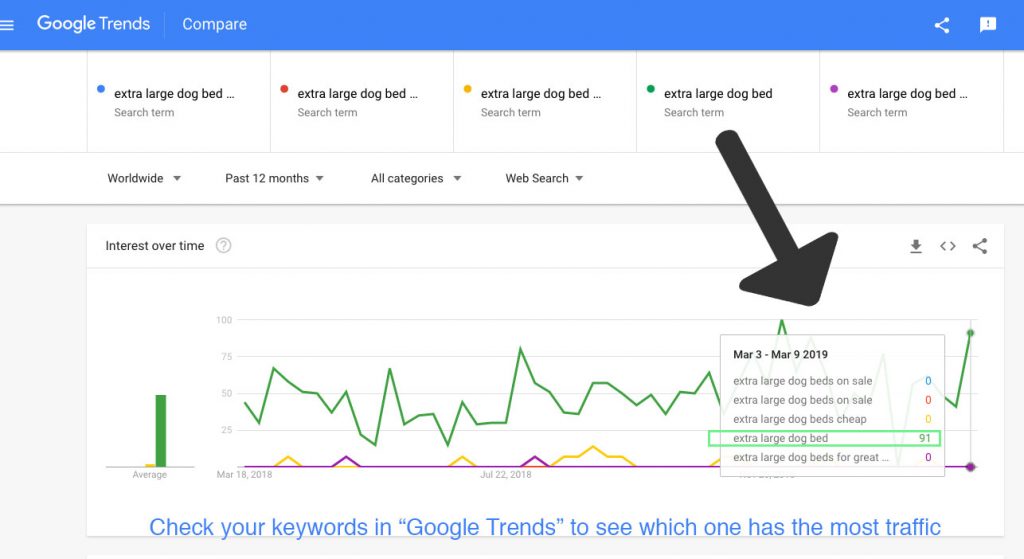 We're almost finished, just one more thing I promise!
Step 3: Check the competition
Ideally you want a keyword that is low or medium competition.
This way, you can possibly have a chance to rank for it.
In general, you'll want to avoid high competition keywords.
You also want to aim for a keyword that has a minimum of at least 10-100 searches per month.
One way to check the competition of a keyword is by creating a free account on Google AdWords.
#1 Click on Tools and then Keyword Planner

#2  Next, enter your keyword phrase or term

#3 Here you'll see the competition level of this keyword

Sadly, our keyword turned out to be HIGH competition, so we need to keep looking for a different keyword.😅
But don't worry because Google AdWords will give you a lot of great keyword suggestions.
Sort by competition so that the arrow is pointing upwards. Take a look at all the LOW and MEDIUM competition keywords and see if any of them describe your product.
Ideally, you'll pick a low competition keyword from this list and choose it as your keyword for your product.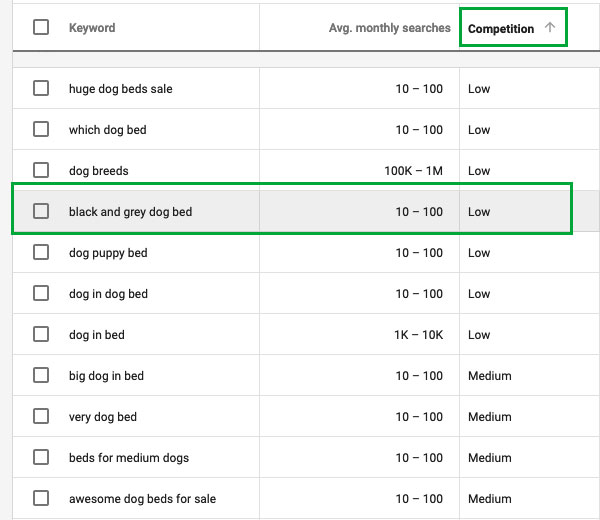 🎉Hooray! We found a great keyword!
For my final keyword, I will choose "black and grey dog bed."
It has a decent amount of searches and is low competition which means I have a chance to rank for it.😋
Be specific, not Broad
The #1 rule with keywords is be specific!
I recommend using a keyword that is 3-6 words in length.
Good Keyword example: black & white high heel shoes
Bad Keyword example: shoes

A keyword with one word like "shoes" is very competitive. It's simply too broad.
If you target a one word keyword, you're essentially competing with top brands like Zappos and Macy's for this one word "shoes."  In other words, it's going to be nearly impossible to rank for this term.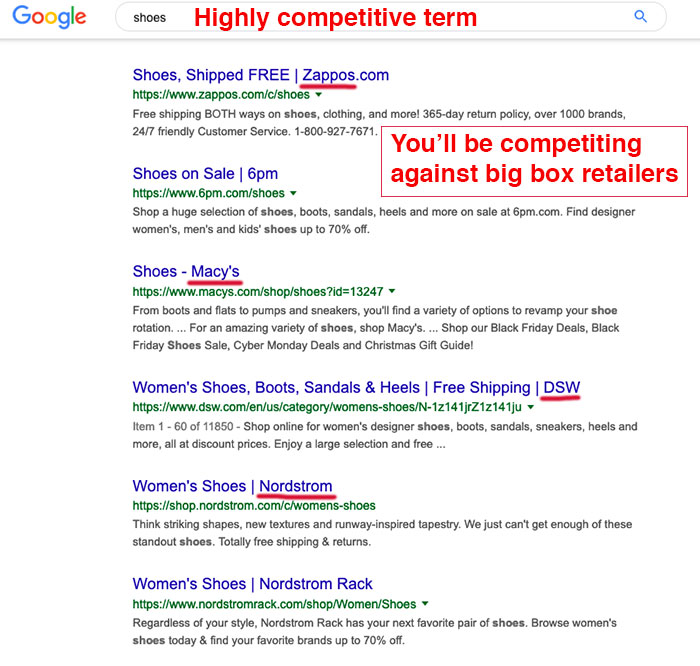 Remember, there are a billion website out there and your website is just one of them.
Even two word keywords like "blue shoes" are super competitive because it's too broad.
Instead, try to be more specific and descriptive about your products.
It's better to go after longer keywords that are 3-6 words in length (called "long-tail keywords") because you'll actually have a chance at ranking for them.
How To Use your Keyword on your website
OK, now that you have your keyword selected you'll want to make sure you use it properly throughout your product page.
By strategically placing your keyword throughout your product page, this will signal to Google that you want to rank for this term.
First, assign your keyword to your product using the SEO Get Clicked app.

You'll want to place your keyword only 1x in the following places:
Product title
Product Description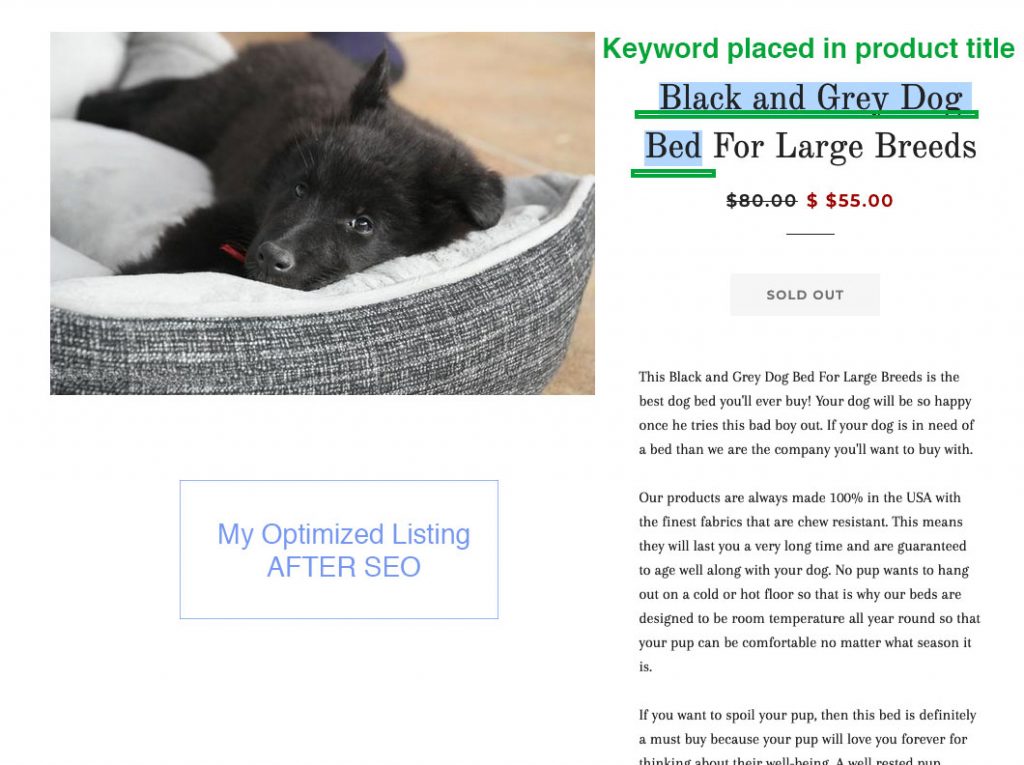 Use your Keyword in your Product Title
You'll need to make sure you use your FULL keyword in your product title ( all together in one piece ).
Remember, our app is looking for an exact match.
This means you'll want to write it word for word, letter for letter, exactly how you wrote it on our app.
Keyword: Black and grey dog bed
👍🏼✅ Product title: Black and Grey Dog Bed for Large Breeds
👎🏼🛑 Product title: Black and Grey Mattress for Large Breeds – Dog Bed

Keyword Placement in Page Title & Meta Description
You'll want to make sure you place your keyword 1x in your page title and 1x in your meta description.
A page title is not the same as your product title.
A page title is the blue headline that displays on search results.
A product title is the name of your product that displays on the product page.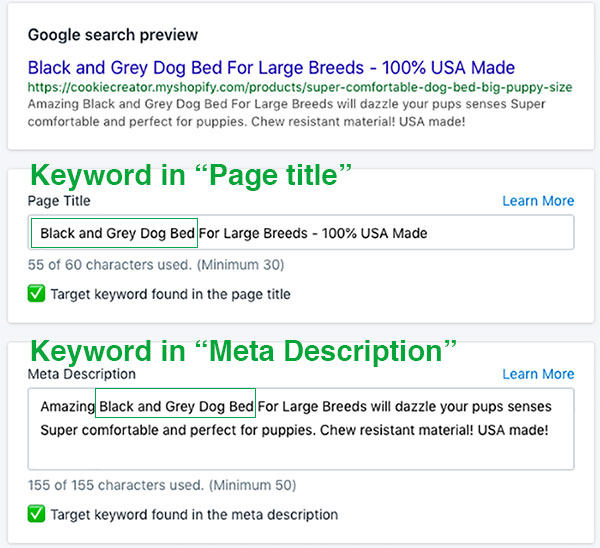 How to use your Keyword in your Alt Text
It's a good idea to include your target keyword 1x in your image ALT Text description.
This can help improve your image SEO because it gives Google more information about your product.
Just remember not to use your keyword more than once, as this can look like spam and can hurt your SEO score.

Best Keyword Research Tool for Shopify Stores
If you want to get your hands on the best keyword research tool, install the app SEO Get Clicked today!
You've got this! 💪🏼
Don't worry if all this stuff seems overwhelming at first, you'll get the hang of it.
It's more of a mentality switch than anything else. You have to think like Google, and most importantly, you have to think like your customer.
I recommend re-reading this keyword research article if it seemed confusing to you the first time around. Also, just give it a shot! Hop onto your computer and see if you can give it a try.
Keyword research takes time, but it's totally worth the effort! 🤓 It can make or break your company, and it can set you ahead of your competitors.
If you currently have organic traffic on your store, read this guide first: What Keywords Am I Ranking For?"
If your a Shopify store owner and have the SEO Get Clicked app installed for your site, feel free to email us any questions you might have and we would be happy to help you out!
✕
Shopify Success Newsletter
Don't miss out on the best tips and guides for Shopify sellers!