Are you a Shopify store that is looking for a Keyword ranking report? Look no further because SEO Get Clicked has exactly what you're looking for.
We are happy to announce that we just launched our latest feature which is a keyword ranking report that allows you to see which keywords you rank for on Google.
We are excited about this new feature because it's currently not being offered anywhere else on the Shopify app store. Using a keyword ranking report is a great way to keep track of how well you're doing with your SEO efforts.
Are you ranking on Google?
A keyword rank trackers answers the question, are you showing up on search results?
This is a great tool to use whether or not you are getting organic traffic. It's perfect for beginners and advanced SEO users.
When some one searches for a term (that matches a product you sell) your goal is to show up on search results for that keyword.
In other words, are you ranking on the 1st page or the 100th page?
With knowledge comes power, and the data will definitely speak for itself! You can think of this keyword tracking report as a reality check, and the ultimate motivator!
Let's get started.
What is a Keyword Ranking Report?
A keyword ranking report helps you keep track of your progress.
It lets you know what position on the search engine results page (SERP) you are showing up for. You may even discover that you're not  showing up at all. You may also discover you're doing better than you thought.
If you don't keep an eye on your keyword ranking data, you won't know how your website is doing.
If you DO have organic traffic, a keyword ranking report can help you understand where your organic traffic is coming from. You can start to discover which keywords are ranking high on Google and are most likely bringing you some organic traffic.
Why track your keyword positions?
Keyword position is important because it tells you if you're showing up on Google or not. 
Your keyword position is basically where you are being displayed on search results.
If you're the third result then your position would be 3.
If we look below at this cheat sheet, position 3 means we are on Page 1 of Google. 🎉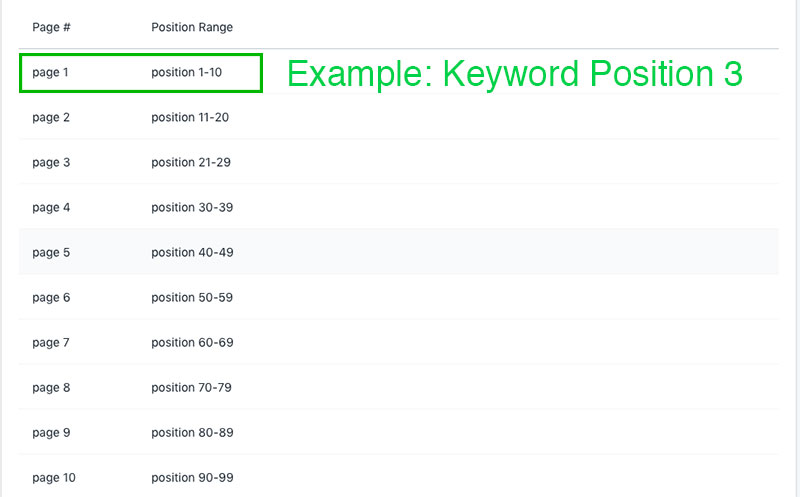 But what if you are being displayed on the 55th page? Well then your keyword position would be 100+. These details really matter because they determine how much organic traffic is going to your site.
Using a keyword ranking report helps you understand how high (or low) your site is ranking for keywords you want to rank for. It tells you exactly what your keyword position is so you don't have to guess.
If you want to rank for the term "gluten free chocolate chip cookies" then you'll need to use a keyword ranking report to see how you're doing. If you are ranking on the first ten pages of Google, you can gradually increase your rank by continuing to always optimize your product pages.
The ultimate goal is to get as close as possible to position 1 as possible. The is the first page first result.
How do I make sense of a keyword ranking report?
There are three main parts to a keyword ranking report.
They are: 1.) keyword you want to rank for, 2.) your position, and 3.) the competition.
They keyword is simply a phrase or term you want to Google to show your website for.
Your keyword position is what page you show up on Google search results.
And the competition is how many other websites are competing for this term.
Where do my keywords rank on Google?
The way to figure out where your keywords rank on Google is by paying attention to the keyword 'position.'
SEO Get Clicked comes with an easy to use cheat sheet so you can easily see what your page on Google you rank on for a given term.
In this example, we've entered five different keywords we want to track our progress.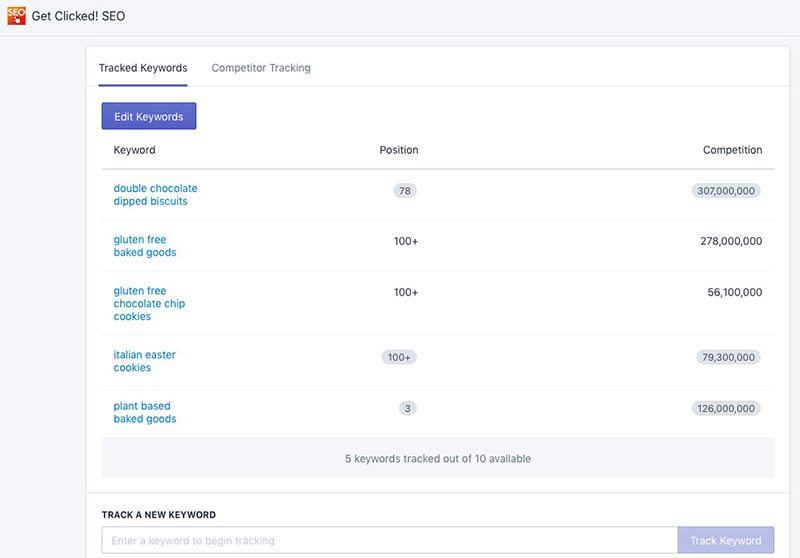 Example #1
The first keyword is "double chocolate dipped biscuits" which has a keyword position of 78.  This means we are ranking on page 8 of Google as the ninth result. Not bad.
The competition is 307 million other websites trying to rank for this same keyword!
Example #2
The second keyword term is "gluten free baked goods" which has a keyword of 100+.
This means that we are not showing up on the first ten pages of search engine results page.
Competition for this keyword is 278 million sites. Since we have a low rank for this term, our keyword ranking report is telling us we need to make improvements.
What if I just started and my website is new?
If you just opened up an online store, using a keyword ranking report is still important.
Hopefully you're making positive changes to your on-page SEO like optimizing your product titles with keywords, and you'll want to see how your efforts are paying off.
If you aren't ranking at all (which is often the case for small companies just starting out) this is okay! Remember every website starts off at the bottom and has to work their way up in rank. This takes time, a LOT of time so be patient with yourself.
Slow and steady wins the race.
This just means you'll need to work a little harder so you can start to push this number in the right direction. Optimize your products with videos, get customer product reviews, get structured data, blog 10k words per month, do proper keyword research and target these terms in your product pages.
Luckily a tool like SEO Get Clicked offers all of these SEO tools to help you achieve a higher rank over time.
The Best Keyword Ranking Report for Shopify
If you're looking for the best keyword ranking report for Shopify, SEO Get Clicked is a great option.
SEO Get Clicked is an SEO app that is made specifically for the Shopify platform.
It has everything you need to get started like video tutorials, chat support, and easy to use tools.
You can also try out the app for FREE because they offer a free 7 day trial.

Summary
I hope you have a better understanding of how to use a keyword ranking report and how it can help your Shopify store succeed.

SEO is a long term solution for getting organic traffic, and it's something you should be working at everyday little by little.
If your keyword ranking report is telling you that you're not ranking yet, don't worry! It's easy to get disheartened and lose hope, but that's now how you win over your competitors.
If you take this stuff seriously, and spend the time to learn how to use tools like this, you'll get ahead eventually.
Remember that Google is slow to increase rank for any website, and it's something you have to work really hard at so be patience.
You are exactly where you need to be right now, just keeping working hard at it!
✕
Shopify Success Newsletter
Don't miss out on the best tips and guides for Shopify sellers!