So you have a Google sitelinks and you would like to change how your business information is being displayed in Google search results. This is a common question for merchants, so read on for our explanation of how sitelinks work and what you can control.
First of all, let me just say congratulations that Google has awarded your website with "Sitelinks". These are not easy to obtain and are only awarded to websites with excellent SEO. In fact, our app Get Clicked SEO encourages Google to award you with these sitelinks. This helps improve your overall SEO health and can lead to a higher click rate.
To answer your question about sitelinks, the process is currently fully automated by Google. This unfortunately means that you can't control what information Google chooses to display in this sitelinks for your site.
How does Google pick which sitelinks to use?
Google chooses what words to display on these headers based on the text they find within your website.
Sometimes Google can even create new text based on what they feel your headers should say, this is all out of your control.
In the end Google has the final say of what to display in search results.
If Google decides to show sitelinks for your site, you can't control which ones they show.
The best you can do is optimize your site hierarchy, internal links, and on-page elements as best as possible to make it clear (and simple) for Google to crawl and understand separate sections of your site.
For more information about how to improve your website's SEO optimization, please check out our tips on our article How Can I Rank #1 On Google Search Results
Can I force Google to use different information or to change the current header text?
The short answer is that this is not possible (yet). Here is a relevant answer directly from Google:
"At the moment, sitelinks are automated. We're always working to improve our sitelinks algorithms, and we may incorporate webmaster input in the future. There are best practices you can follow, however, to improve the quality of your sitelinks. For example, for your site's internal links, make sure you use anchor text and alt text that's informative, compact, and avoids repetition."
– Source: Google Search Console Help: Sitelinks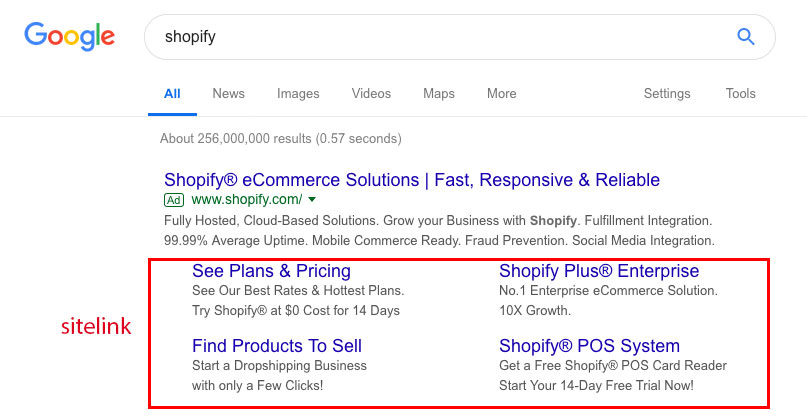 If Google ever decides to let merchants control their sitelinks information, our app will be the first to allow you to edit this directly.
I hope this article has been able to shed some light on this issue. Feel free to get in touch should you have any more questions for us here at Adolab.
✕
Shopify Success Newsletter
Don't miss out on the best tips and guides for Shopify sellers!