Are you missing out on free traffic? Google image SEO might be able to help drive additional targeted traffic. Let's go over some techniques that may be able to help you start ranking for image searches.
Google Image Search Overview
If you aren't familiar with image search, Google has a tab below the search box that will let you filter you results by specific types. These are All, Images, News, Views, Maps, & More.
Let's imagine that someone is searching for Army backpacks and your shop specializes in military related accessories. You might be able to get a new customer if your backpacks show up in image search results and it catches their eye.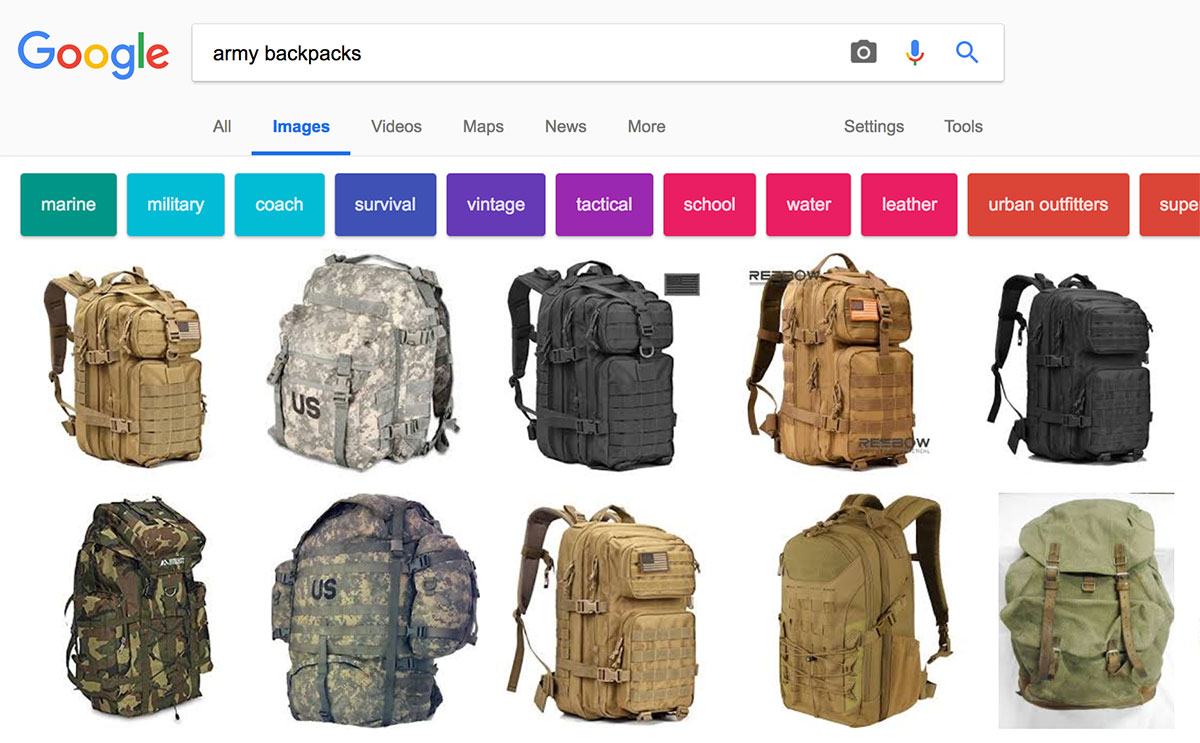 This is because when a user clicks on the image it will take them to the website that Google originally found the image on.
This can help you find new potential customers if your product images are correctly optimized. This makes image search optimization a valuable technique that you should consider for your shop.
Why Do My Images Not Show Up In Google Image Search?
You may have tried doing a search for your products and found that you are just not ranking for any related image searches.
One of the reasons that this could be occuring is that Google might not have any idea about what your image is.
How Do I Optimize My Store For Google Images?
Now that I have you convinced let's go over some of the things
You Have to Add Alt Tags to Your Product Images
This is a big one.
You really need to tag your images with a descriptive alt tag. It not only helps Google but it can also help shoppers with disabilities as well.
Thankfully, Shopify allows you to do this straight from your product page.
On your product page, hover your mouse over the image you would like to add an alt tag to.
When you click on the text that says alt you will then see a popup that allows you to enter an alt tag. From here you can add a brief description about what is in the image.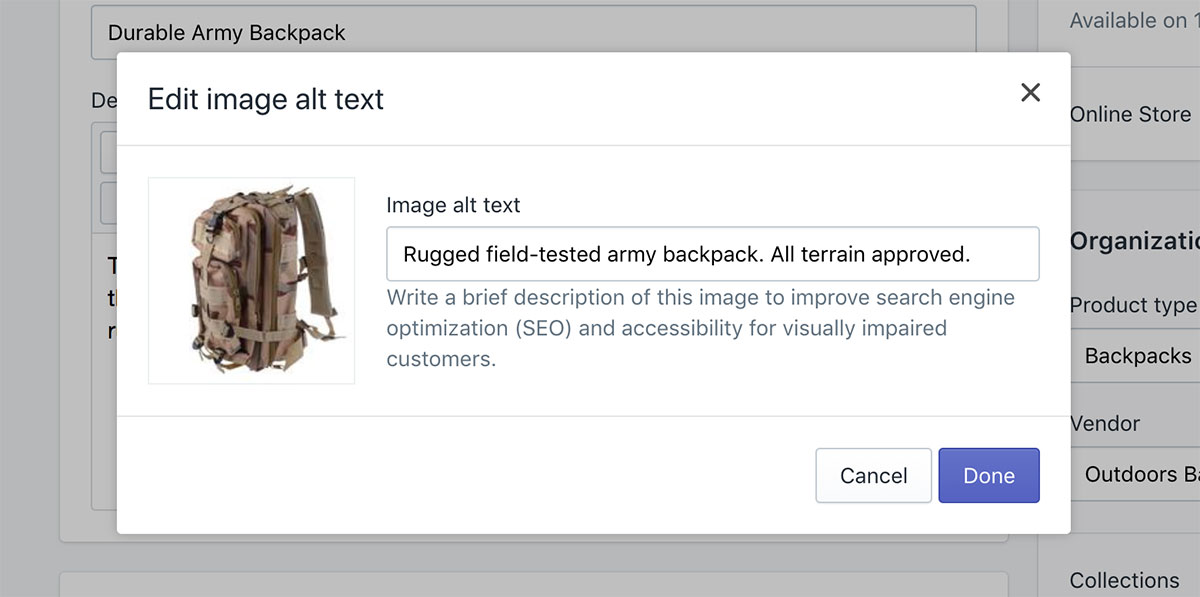 Just remember that keyword stuffing doesn't really help a whole lot. Use your keyword but don't overdo it.
Try to create a helpful description for pottential customers.
Page Content
Another indicator of your image content is the actual content on the page.
Be sure to add related terms throughout your product descriptions, titles and categorizations. This helps Google to further understand what your site is all about and it will also help you to start ranking.
File Name Selection
Before you upload your images you have an opportunity to help your seo.
Google actually reads the filenames of your uploaded images and uses this information (among many other indicators) to help with determining whether or not they should show the image.
To do this all you need to do is create a lower case file name that is separated by dashes and then the filetype.
Also, be sure to remove "filler words" like the, a, an, etc..
For example: The Best Army Backpack would become best-army-backpack.jpg
In Conclusion
Consider experimenting with different keyword combinations.
You might start seeing results if you target a range of related keywords and possible search terms.
Also, as with all SEO work. This type of work can take time before you start seeing results. Don't give up if you don't see a traffic spike overnight. Stick with it and work through all of your products and try to continue to make improvements over time.
I hope you found this guide helpful. If you enjoy it feel free to share it or leave a comment down below if you have any questions!
We offer more Shopify SEO tutorials on our blog regularly, so stay tuned for more.
✕
Shopify Success Newsletter
Don't miss out on the best tips and guides for Shopify sellers!