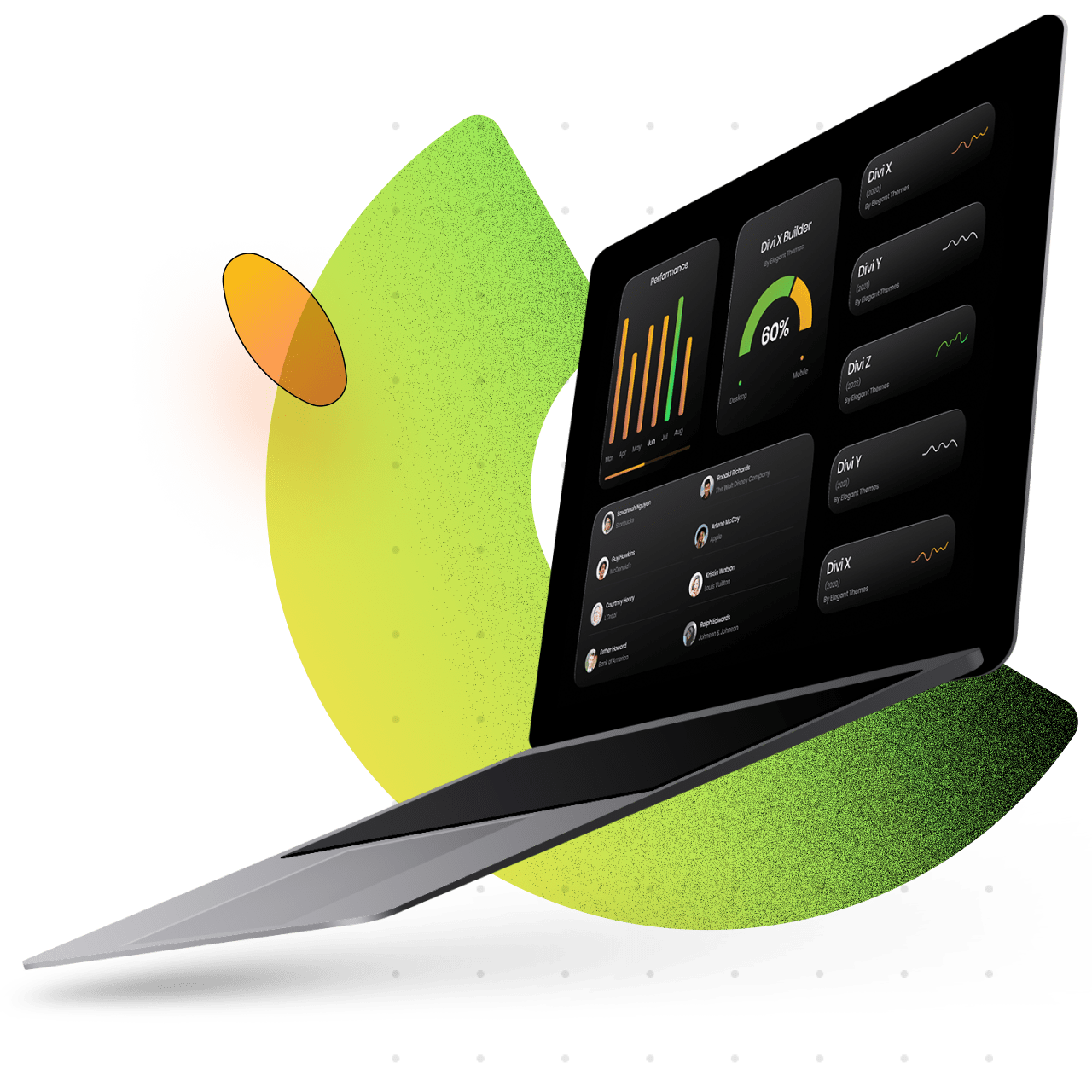 Get Clicked is the best Shopify SEO app for increasing organic traffic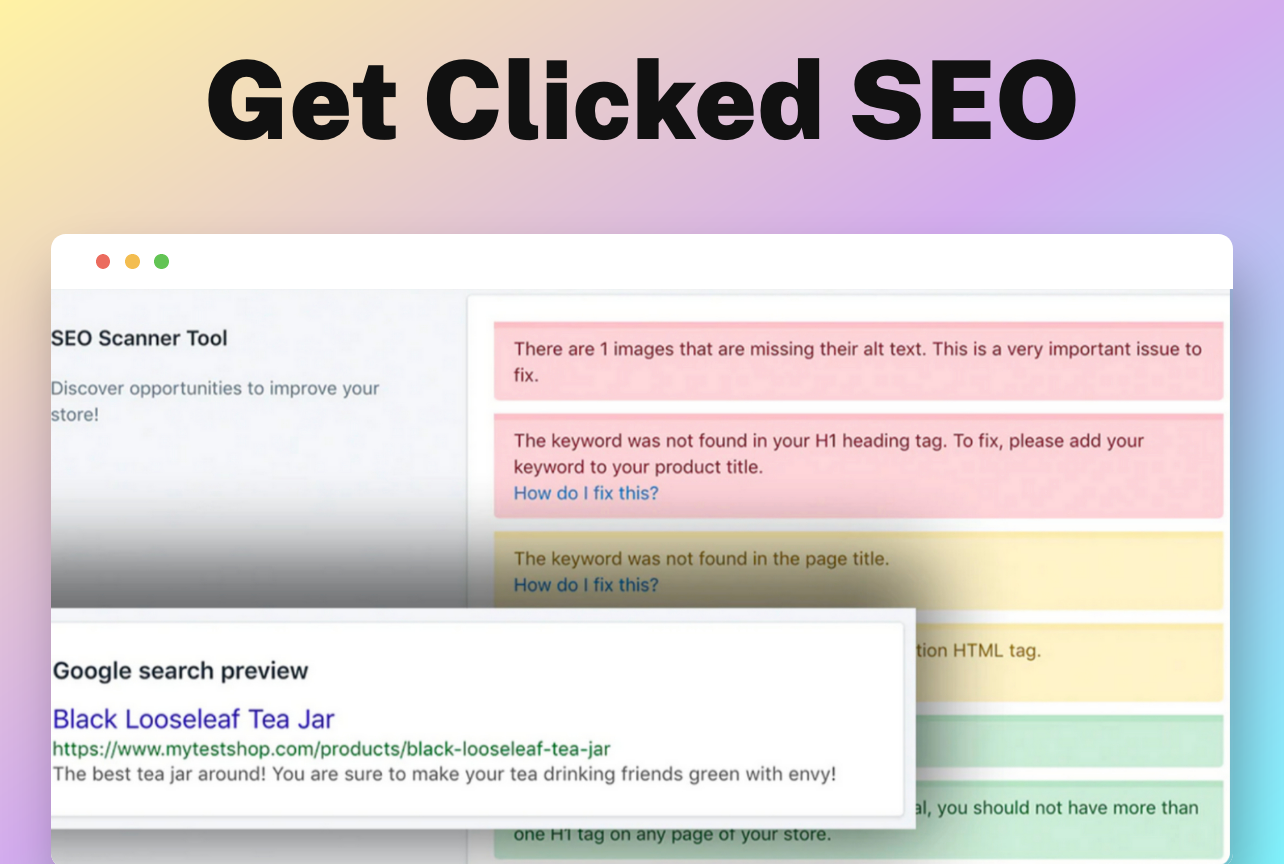 SEO Increases Your Online Visibility
Helps Potential Customers Find Your Store Easily 
Show Up In Search Engine Results like Google
Improves Search Engine Rankings
Leads To Higher Organic Traffic
Attract People Who Will Buy Your Products
Builds Trust and Credibility For Your Brand
Is your Shopify store not getting enough traffic? Get Clicked is the best SEO app for Shopify & can help you!  Whether you're a newbie just starting out or an advanced SEO guru, our app can help your site. Get Clicked helps business owners increase their SEO and drive organic traffic by providing SEO tools to optimize their ranking. Our app helps you understand everything you need to do in order to start showing up on search results. From helpful video tutorials to easy scanner checks, we guide you through the process step by step & provide automatic results!
The Get Clicked app has many powerful features that are automatic so you can relax while we do all the hard work.

Get Clicked SEO instantly optimizes your product pages, collections, and blogs, and other site pages for search engines. Our app guides you on how to name your products with targeted keywords so your store can appear in search results & attract organic traffic. With one-click solutions to optimize titles, meta descriptions, & image ALT text, you can enhance your website's SEO effortlessly & drive more visibility to your products.
By scanning your website for SEO issues, you can spot any problems that are negatively impacting your search engine rankings. This allows you to optimize your website and content to align with search engine algorithms, ultimately improving your chances of ranking higher in search results.

Real-Time Keyword Tracking
When someone searches for a product or service you sell on your website, do you appear on the 1st page of Google or are you buried at the bottom of search results? Our real-time keyword rank tracker shows your actural score with Google so you can monitor your progress. Easily track your position on Google search results & compare it with your competitors' rankings. Improve your chances of ranking higher and attracting valuable organic traffic.
Get Clicked shows you which SEO issues your products have & guides you through the steps to fix them. Say goodbye to guesswork and frustration as our app effortlessly identifies areas for improvement. Fine-tune your product listings & skyrocket your search engine rankings. Start maximizing your online visibility & driving more organic traffic today by installing Get Clicked & optimizing your way to success.

Drives More Visitors To Your Site
Get Clicked SEO gives you real solid advice about how to make your product listings better so you can drive more organic traffic to your site.  Unpaid free traffic, not a penny spent on ads! From analyzing your site to suggesting keyword optimizations, product title improvements, and more, we'll guide you through the process of fixing any SEO issues we find. No more guesswork or wasted time – our app puts the solutions right in front of you, making it easy to enhance your product listings and attract more visitors.
Stay one step ahead of the competition with our amazing keyword rank tracker. You'll have the power to monitor your competitors' performance. Imagine being able to effortlessly keep a close eye on your rivals, tracking how they rank for the same keywords you're targeting. This invaluable competitive analysis allows you to uncover their strategies, identify opportunities, and refine your own SEO tactics so you can dominate search results.

Fix Broken Links Effortlessly
Get Clicked simplifies the process of fixing broken links on your website. Our app's "missing pages" feature identifies and displays all the broken links, empowering you to create redirects seamlessly. By providing working URLs for these broken links, you can reclaim lost traffic, improve user experience, and maintain a high SEO ranking. Keep your visitors happy and ensure they find what they're looking for on your website.
With Get Clicked SEO, you get top-notch customer support that's always there for you. Our email support connects you directly with real SEO experts who are super eager to help you out. Got questions? Need guidance? Want assistance with any app feature? Our knowledgeable team is all about giving you personalized support. Rest easy knowing you have reliable experts by your side, ready to help you crush your SEO goals. We've got your back every step of the way.

Get Clicked is the best Shopify SEO app to kick-start your SEO journey! Our powerful automatic features help boost your rank so you can appear at the top of Google search results! Plus, we offer tons of fun SEO tools to use to help improve your website.
You can't sell products if no one is visiting your website! Ads are expensive. SEO gets you free traffic. Our app is a smart solution to get visitors to your website so you literally get Google recommending your products to people!
If you work on making your SEO great, you can get promoted for free by Google in search results without ever spending a dime in ads. Google will actually send people to your site if they see you as trustworthy. More visitors leads to new customers.
Unleash Your Full Potential
Imagine the power of having the knowledge and tools at your fingertips to fine-tune your online presence, outrank your competitors, and skyrocket your search engine rankings. With Get Clicked as your trusted companion, you'll not only stay ahead in the game but also drive more targeted traffic to your store, increase conversions, and ultimately boost your bottom line.
"This app has saved me so much time! I was trying to research all the areas of SEO but this app is like a signpost pointing me in the right direction! The directions are very clear and concise and immediately impactful. The customer service is really top notch, you cannot go wrong here."
– Pamona Purdy Jewelry
"SEO Get Clicked! is a fantastic tool created and run by fantastic people. The app helped me identify key problems with my site's SEO and made it easy to fix the issues. On top of that, the support is second to none. I've spent over an hour talking to Adriana since downloading the app and she has gone above and beyond to help me find the best possible ways to improve my site's searching rankings. Highly recommend!"
– Voke
"WOW!! Customer service is above & beyond! I can't say enough great things… the app is awesome, easy to use & very clear & straight forward. If you need SEO help for your website then get this app!!! A must! As a store owner, I highly recommend this. You will not be disappointed!"
– Vintage VDub
"Simply outstanding experience and progresses.
The app methodology and organization of tools, tasks and support material makes everything simple, straightforward and (the aspect I enjoyed the most) elevates immediately your knowledge, pushing also to try to fix yourself complex technical matters (as coding). The support is fantastic, solid and professional. The people involved have clearly a passion to find solutions to problems. 5 stars."
– Kairen Beachwear
"You want to be liked by Google, right! Get Clicked is an excellent and straight forward approach to managing SEO structure. The video resources are very valuable as well. Well worth the expenditure in my experience. I am starting to see results."
– H2o Parts 2 Go
"I love this app! I can easily add relevant keywords to all my pages, products, and blog posts.  Now I have the tools to get ranked on Google!"
– Birth Song Botanicals
Don't waste your time with other apps, Get Clicked is the best Shopify SEO app.
✕
Shopify Success Newsletter
Don't miss out on the best tips and guides for Shopify sellers!